Regular price
$279.00 USD
Regular price
$399.00 USD
Sale price
$279.00 USD
Unit price
per
Sale
Sold out
Share
Mastering the ukulele is now more fun than a Hawaiian vacation.
If you've ever picked up an instrument and felt a strong desire to play something beautiful, you're not alone. And this time, you can. Master your favorite songs in minutes, not weeks - with the Populele 2 Pro Smart Ukulele. Using modern tech to make learning one of the world's best-loved instruments fast, fun, and simple for players of every level.
Follow along as a smart LED fretboard guides you to perfect chords, showing your fingers exactly where to go next. Unleash epic studio-quality sound with the PopuBoost Preamplifier, built-in for awesome reverb, chorus, and delay anywhere you play. And stay motivated with an app that includes endless free video lessons, a vast library of popular songs, and a new gamelike strategy to learning that keeps you moving forward, leveling up, and playing better every day.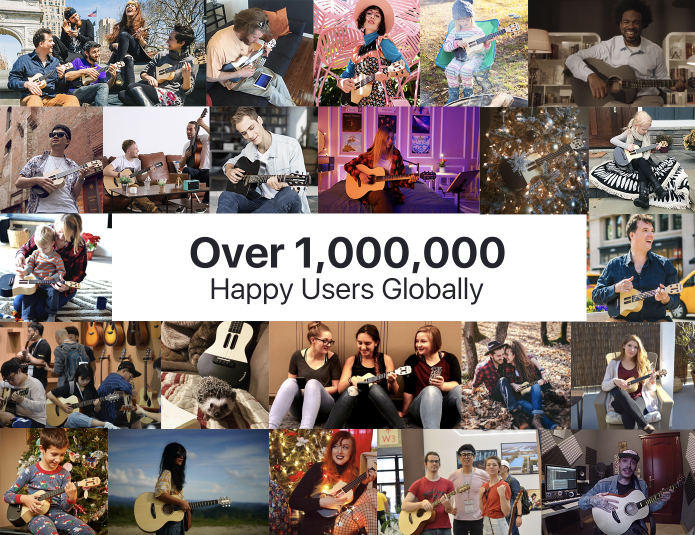 Check out our PopuMusic App. Keep it fresh with unlimited access to 100's of popular songs from around the world. Our library is stocked with hit tracks from the world's top stars, all with interactive video lessons for free on the app. And the audio library is updated monthly with new trending songs from every genre that you can learn, play, and make your own.

First time picking up the ukulele? The Populele 2 Pro features fun and interactive video lessons for every skill level, all 100 percent free on the app. Guiding you from your first chord to the big solo. And our wide catalogue of lessons is there for you 24/7 - so you've always got a mentor on standby.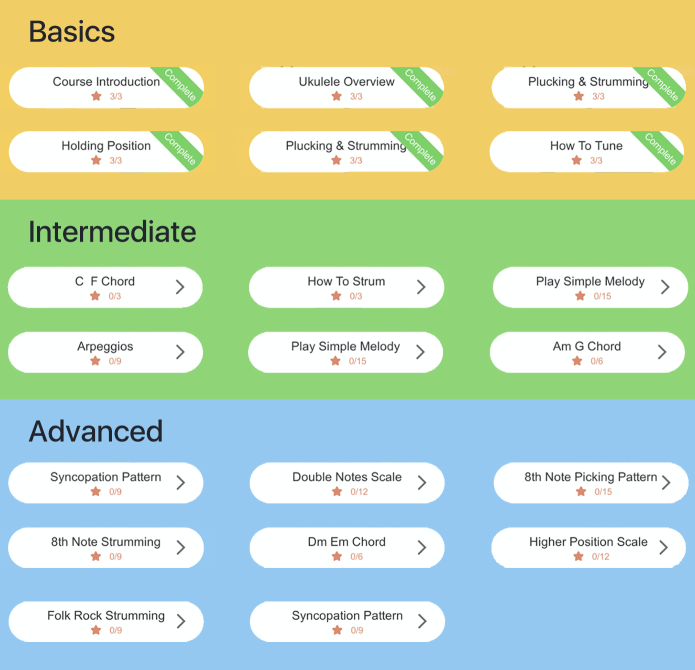 Most of us are visual learners. That's why the Populele Pro 2 uses smart LED lights to show your fingers exactly where to go next - lighting up your path to perfect chords. With 56 LEDs right on the fretboard, it cuts the hassle out of fingering to make learning chords easy and fun, the way music should be.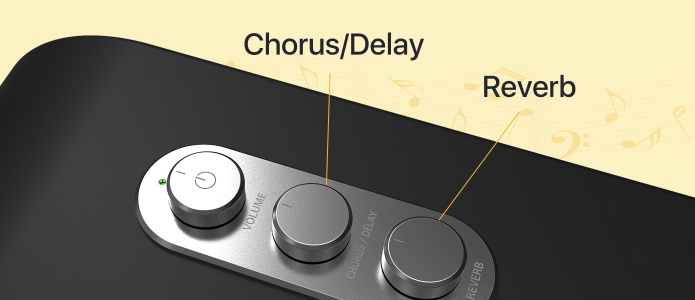 We add a premium preamplifier to Populele 2 Pro, our latest 2021 generation, to let you bring the party to life and play like a rockstar, easily. Add big stage style and flare to your music through studio quality sound effects like chorus, reverb, and delay. You'll never run out of ways to enrich your sound - even seasoned players can use endless distortion effects for a richer, more customized sound.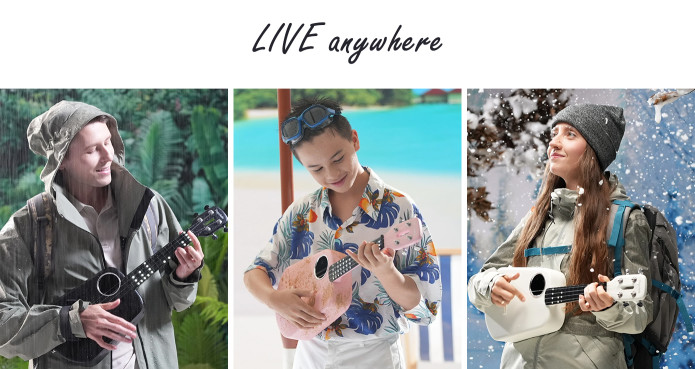 And the preamplifier on the Populele 2 Pro is built in - so while other instruments need cords and plugs to get the same effects, the 2 Pro is completely wireless. So you can bring stadium sound to every scene - no strings or cords attached.
Or if you want to go full rockstar, connect your Populele 2 Pro to speakers via its output jack for high quality audio streaming, and get the crowd moving with concert-level acoustics.


Play chords! Collect points! Level up!
...Sound like a video game? That's because we designed it that way. 
Just like your favorite games, the Populele 2 Pro's learning system gives you goals to reach and achievements to unlock, keeping you entertained and motivated to go further. But instead of reaching Game Over, you're investing in a skill you can use for the rest of your life. 
Talk about leveling up.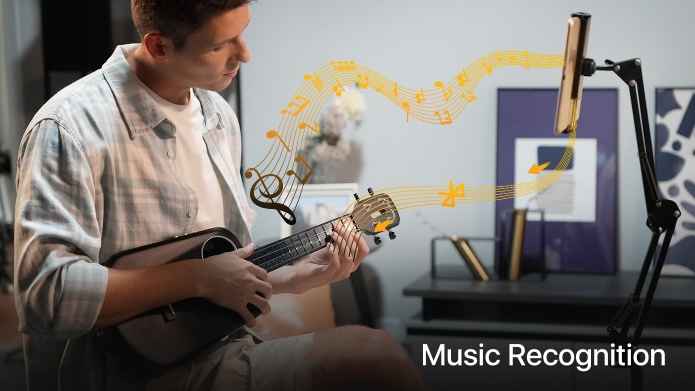 Always know when you're in tune. Even if you're tone deaf. Our music recognition technology listens while you play and offers helpful feedback, just like a good teacher. Giving you a gentle nudge if you're off beat, so you can find your groove faster.

You set the pace. Control the speed of your lessons to meet your skill level. Slow things down if you're starting out, or speed them up to make things more challenging. The app puts you in control of your learning tempo.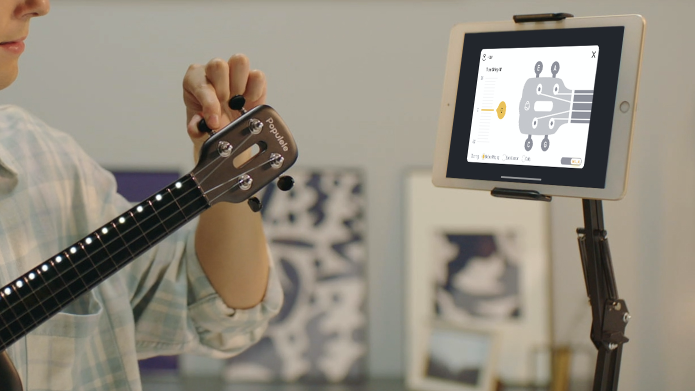 Fine tuning - right from the app. Getting the perfect pitch is so easy on the PopuMusic App. Simply turn the digital tuning peg on the app to change the pitch level of every string, then adjust the tuning peg on your Populele and pluck till you find your sound. No extra tuner's required.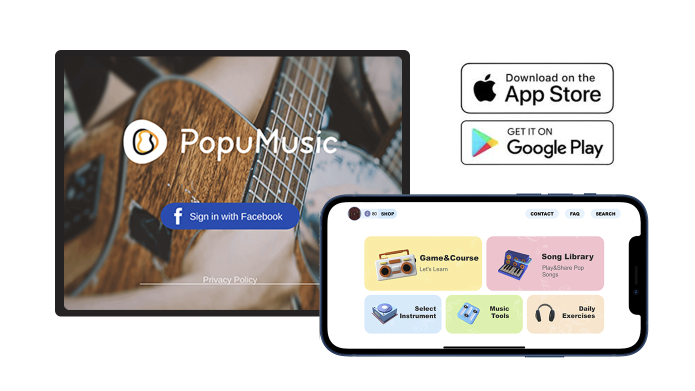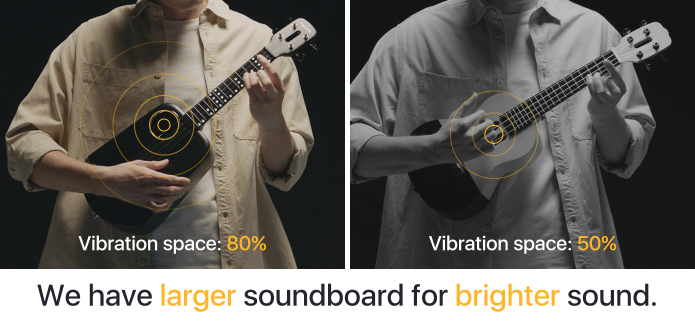 It took years of practice crafting quality instruments before we could build the Populele 2 Pro. Every note of this treasured Hawaiian instrument comes to life with a rich and bright sound that's balanced across the whole musical scale. For the strings, we opted for PVDF carbon fiber, because it offers better elasticity and lasts longer than nylon. And we gave the Populele 2 a broader soundboard, so it has a wider area to vibrate on every note.

The Populele 2 has a unique design that's soft around the edges and big on curves. It's molded from carbon fiber for great sound and lasting durability. Unlike a wooden instrument, the carbon fiber body isn't affected by weather like humidity or cold. It never shrinks or expands, so your sound stays true whether you play it in the islands or play it in the desert. 
And the neck and body are all built from one solid piece, making it stronger and more resistant to sound leakage. We designed it to be low-maintenance so you can focus on what matters: the music.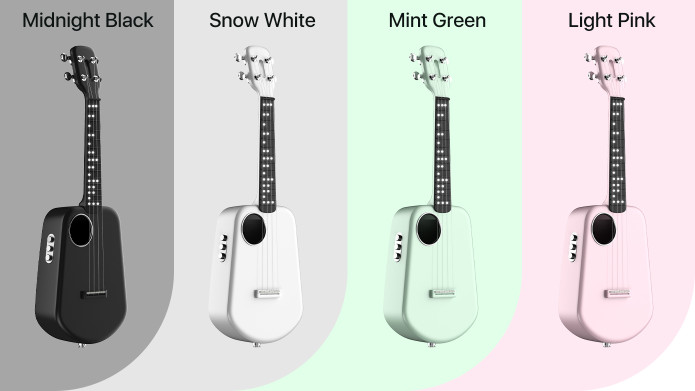 We know you'll want to show off your new talents. And with 4 fresh looks to choose from, you can steal their eyes as well as their ears.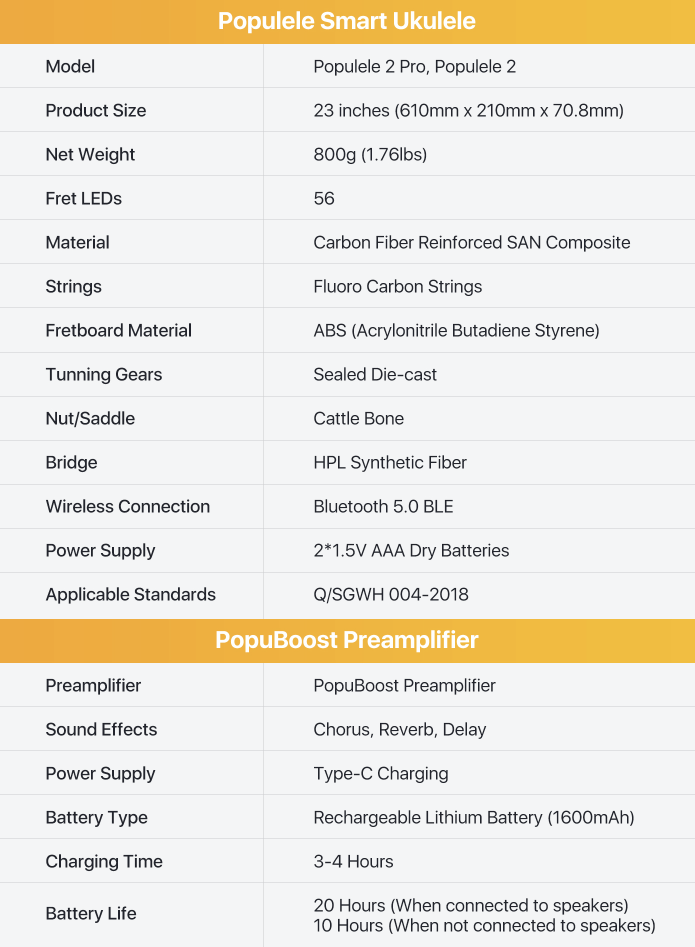 The PopuMusic(https://popuband.com/) brand is dedicated to creating a musical lifestyle for the world. To popularize music and provide music fans with easy access to learn their favorite instruments, we designed the Poputar smart guitar series and Populele smart Ukulele series and launched them on Indiegogo. They have received great popularity! Founded in 2015, PopuMusic set out to explore the future of music and is growing to be the leading player in the musical education and smart instruments domains, supporting over 1,000,000 happy users globally. Holding numerous industry design awards like the IDEA gold award, iF design awards, and red dot design award.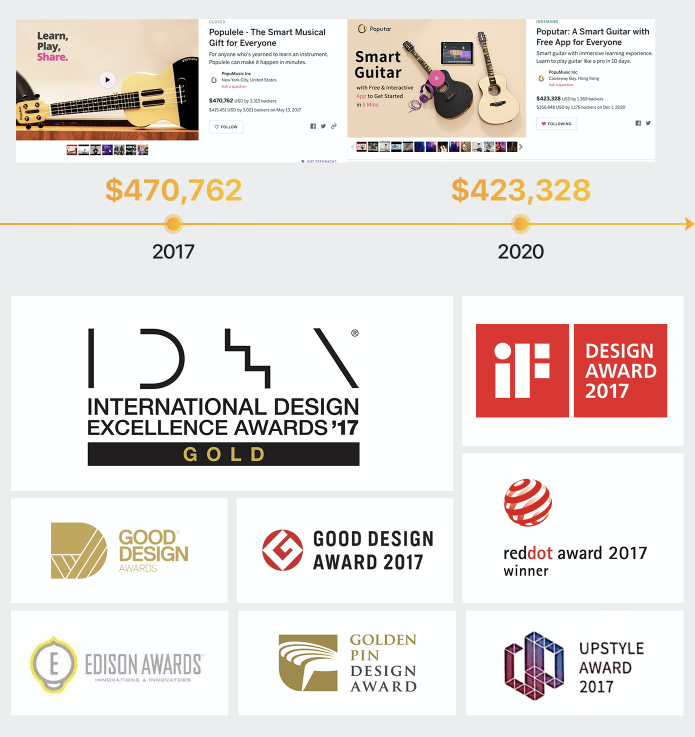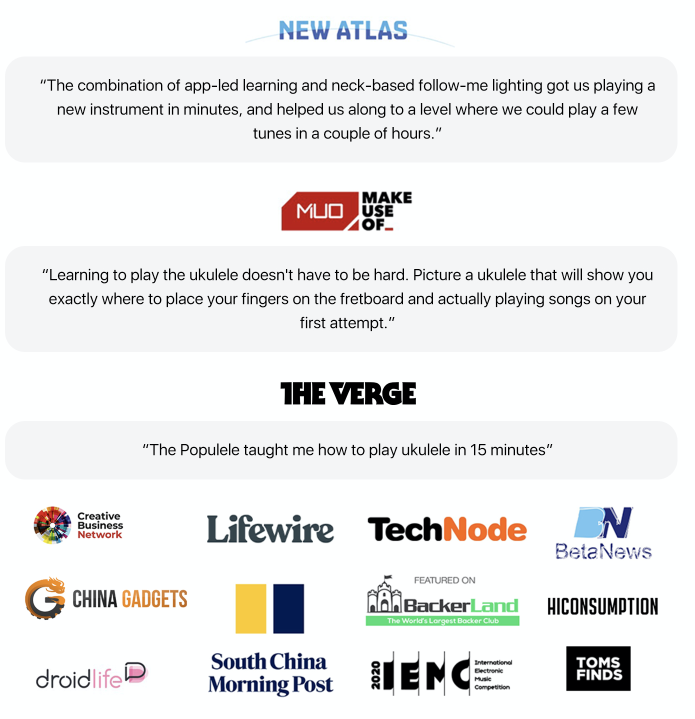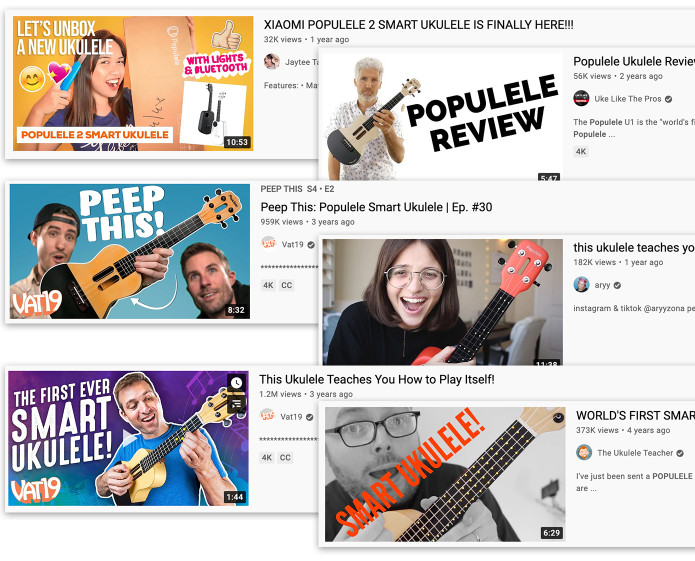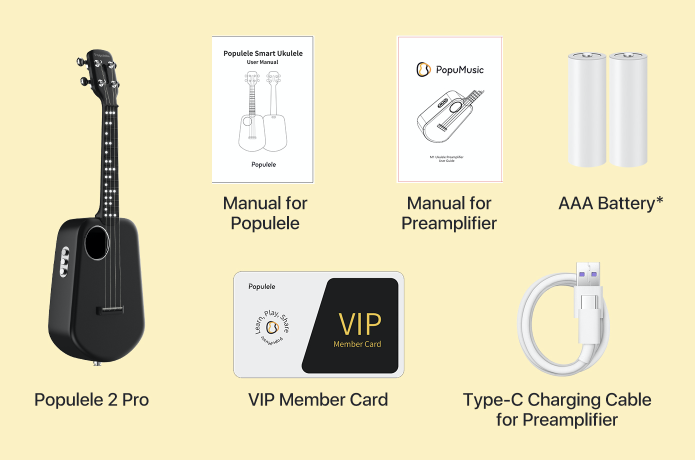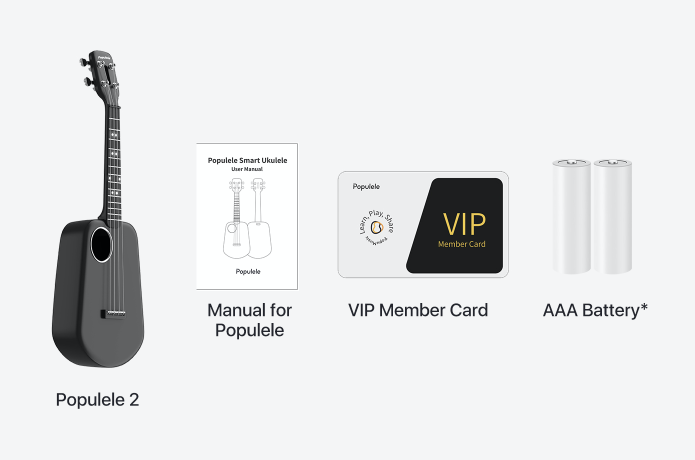 *Per logistic regulations, a few countries and regions will not receive packages that contain batteries.

*How to redeem the card
1. Sign up & log in PopuMusic App, tap PROFILE on the upper left corner.
2. Tap REDEMPTION CODE
3. Enter "Code for Ukulele Course" to redeem the ukulele courses
4. Redeemed successfully

Stretch Goal Comes!
PopuMusic values the connection with every one of you and we hear your voice! Feeling grateful for your support and proud of the achievement of the Populele 2 Pro campaign, we hereby would like to announce our stretch goal -- We are planning to add a WISHING WELL section on the PopuMusic App when the campaign hits $800,000! Any registered user of our PopuMusic App can make a wish or vote for his favorite songs for free on the section, and the top 3 will be included in the song library! And there will be a vote every week, everyone gets a chance! So please help us share the campaign to reach the goal and your wish about adding your favorite song will come true!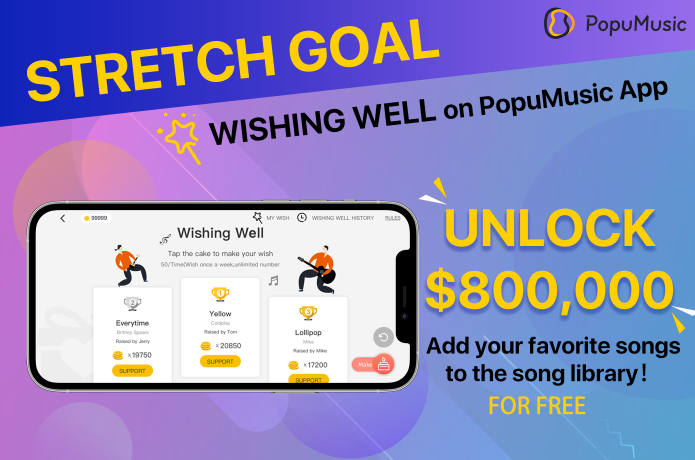 Share Kickbooster referral link to get 7% CASH BACK!

Sign up on Kickbooster via the link below to get your personal referral link and invite your family and friends to back us via your referral link. For each order you refer successfully, you'll receive 7% of the pledge amount as a cash reward. Share now and win cash back! Do not miss out!
Kickbooster Link:  https://populele-2-pro-smart-ukulele.kickbooste...
Note:
If you or your friends request a refund during the campaign, you will be ineligible for the referral program and the cash reward will not be sent to you.
You will automatically receive the cash reward through the Kickbooster platform after the campaign ends.
*The PopuMusic team reserves the right to explain the Terms & Conditions at any point during the referral program.
Help us share and get your rewards! 

You will be able to choose your preferred color after you choose the perk you want.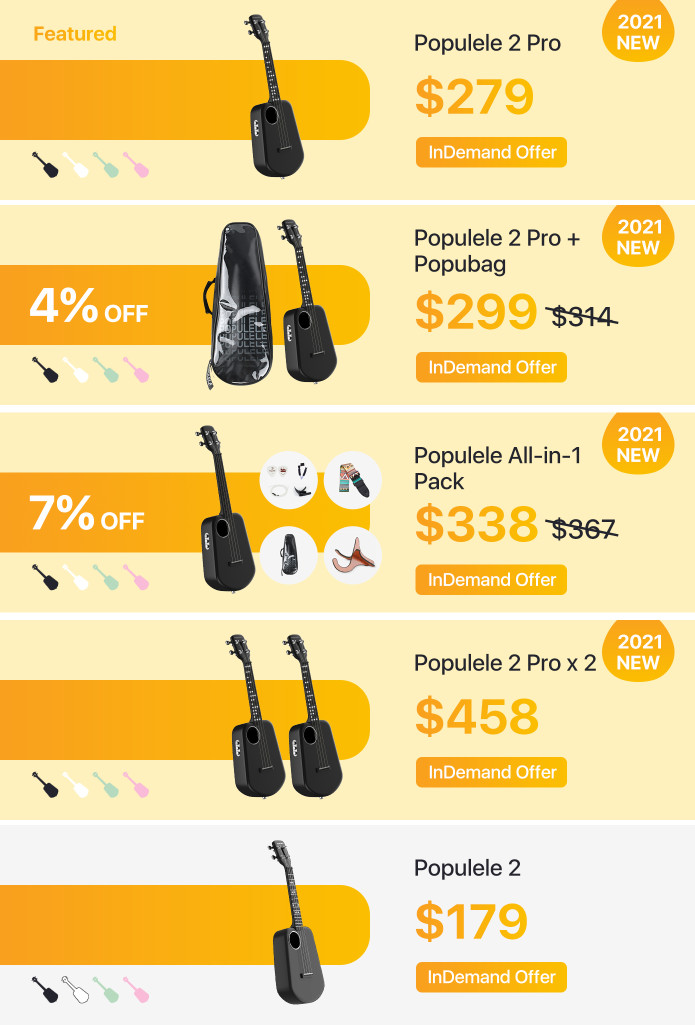 You will be able to grab the add-on accessories on the next page after you choose the ukulele perk you want before checking out.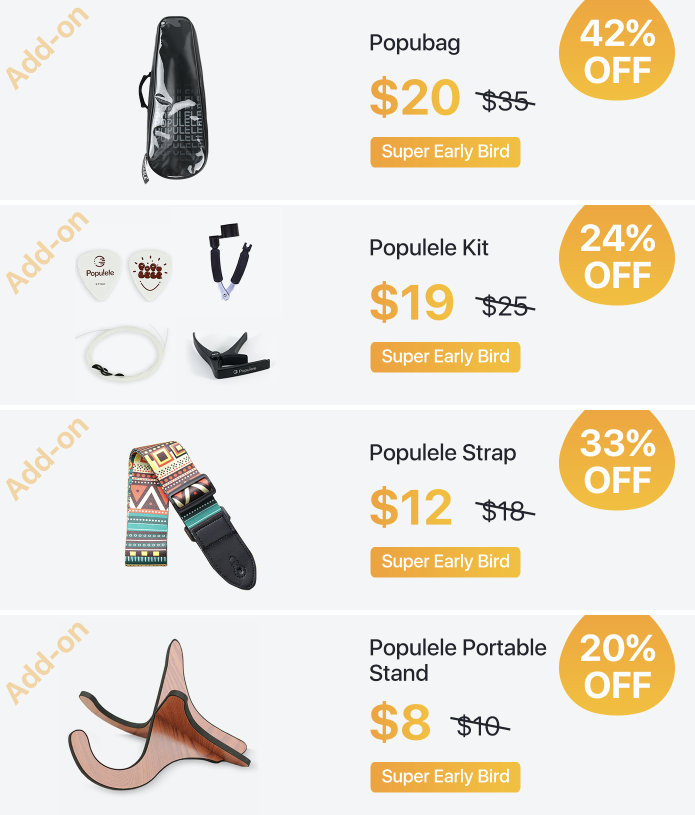 We've already entered into the mass production stage, and the shipping for the Pro version will begin in October. We provide free shipping and also cover the customs fee for global backers except for a few countries in the list.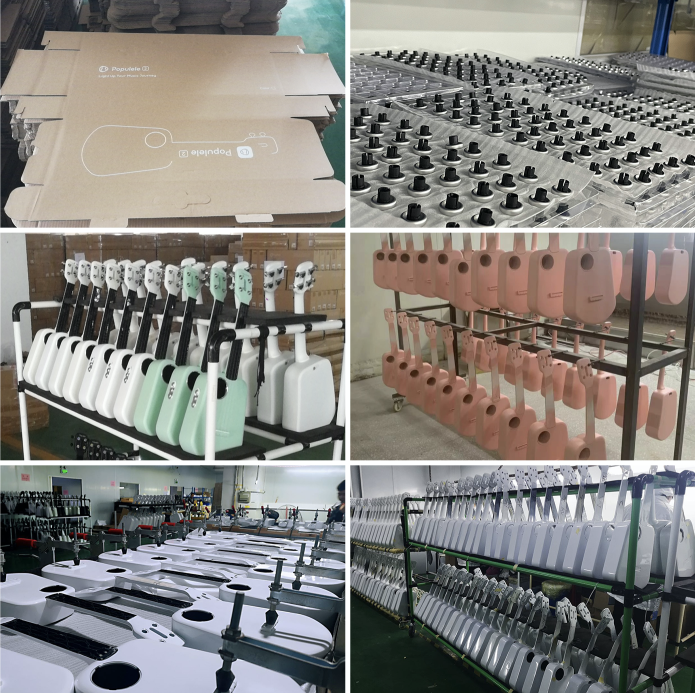 View full details
Shipping

We offer 7-10 days of Expedited shipping and 15-25 days shipping. Big item to the Middle East etc will be refunded if cannot be shipped.

Returns

We offer a 1-year warranty for all items, please contact us if there is any issue and we will be there for you.