Regular price
$139.00 USD
Regular price
$189.00 USD
Sale price
$139.00 USD
Unit price
per
Sale
Sold out
Share
70mai Dash Cam Pro is an in-car DVR featured multiple functions to promote safer driving experience. | Parking Surveillance | Advanced Driver-Assistance System | Superb Day and Night Vision | APP Enabled, Easy Play Back and Download | Compact Design | 3-minute Installation | Voice Control | Xiaomi Ecosystem Company | LIMITED WORLDWIDE FREE SHIPPING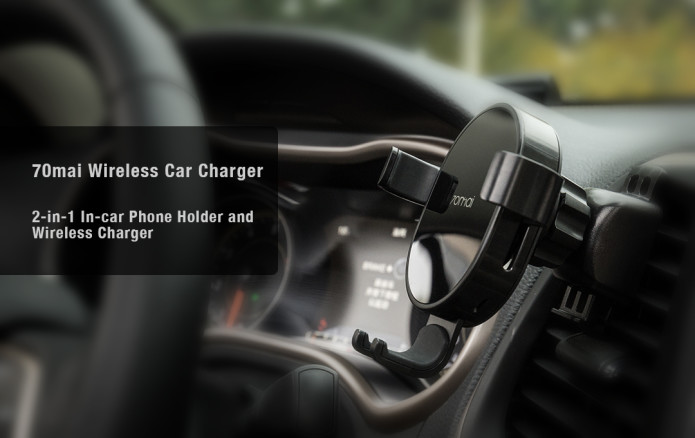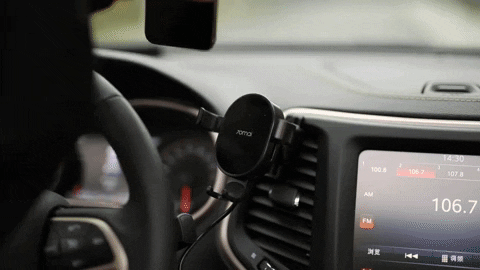 The robotic arms of 70mai Wireless Car Charger can free your hands for mobile phone charging and keep a safer driving, due to its gravity-linkage design.
Easy to use, convenient to charge.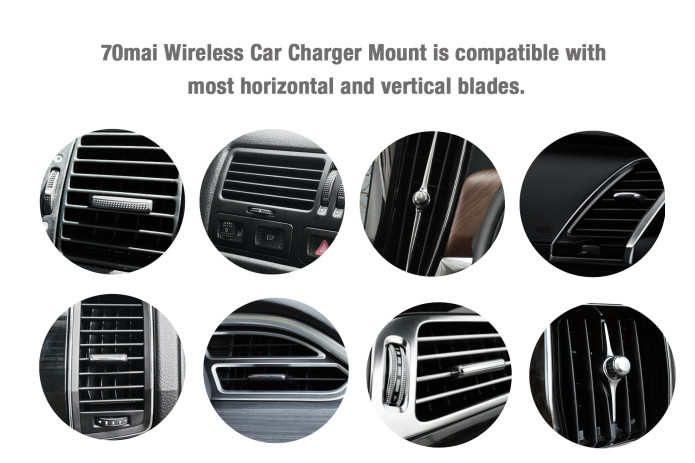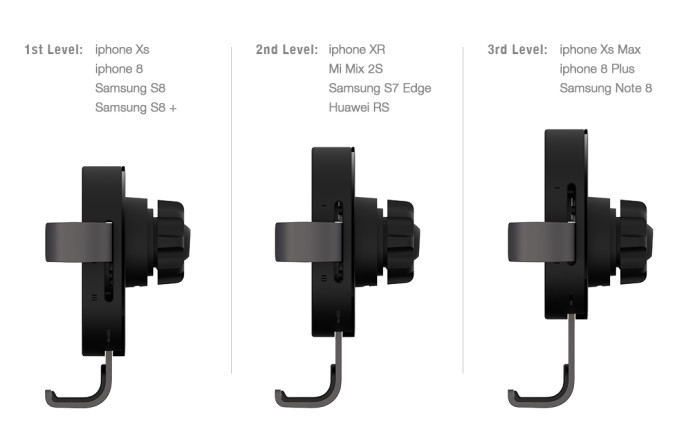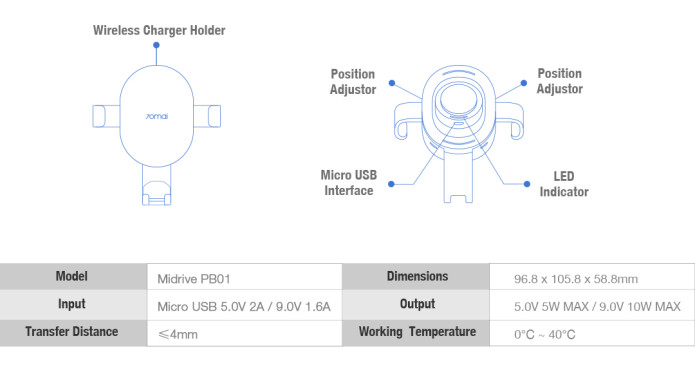 *Package contains: 70mai Wireless Charger *1 Micro USB Cable *1 User Manual *1
*Announcement: 70mai Dash Cam Pro English version only debuts on Indiegogo. The current popular 70mai Dash Cam Pro on e-commerce platforms (eg:Aliexpress) are all Chinese version, which does not support the English language. Thanks!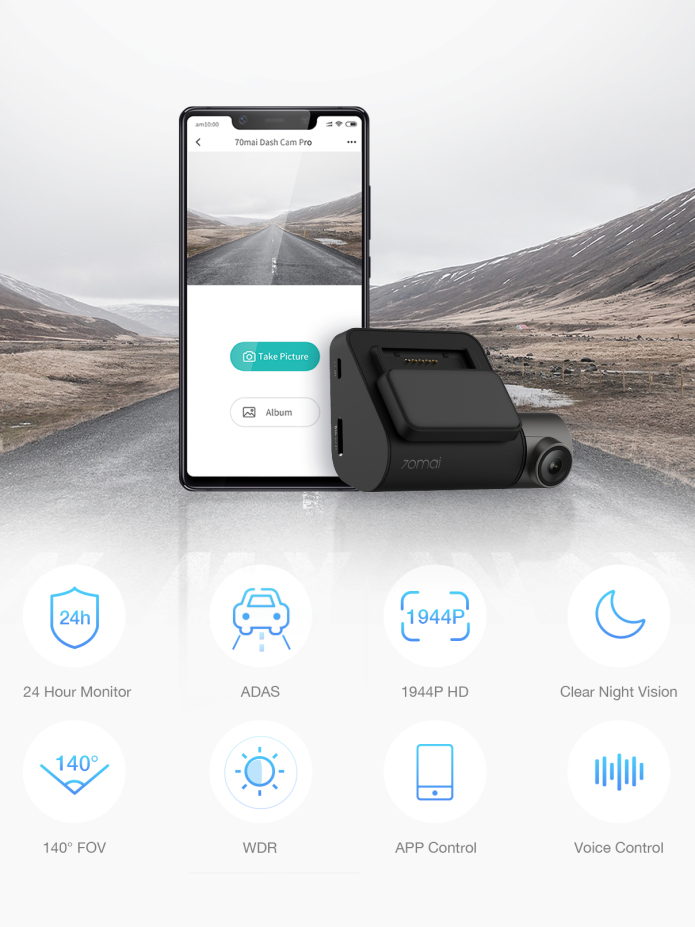 70mai Dash Cam Pro is an in-car DVR supported by 24-Hour Parking Surveillance and Advanced Driver-Assistance System (ADAS), featured  1944P (2.7K) resolution, Wide Dynamic Range (WDR) and Defog. It helps to lead a safer driving experience by monitoring vehicle when the driver's in distance, warning potential danger and recording more details of emergency events in bad weather. 
*Notice: A TF card is required to be inserted before using the cam.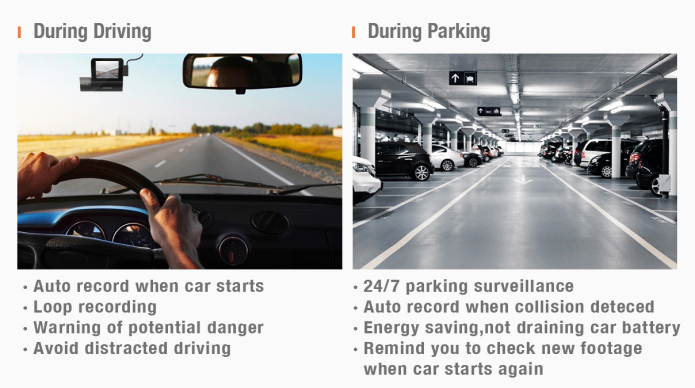 70mai Dash Cam Pro bends multiple advanced technologies to detect driving environment, anticipate risks and capture emergency events whether you're in the car or away from it.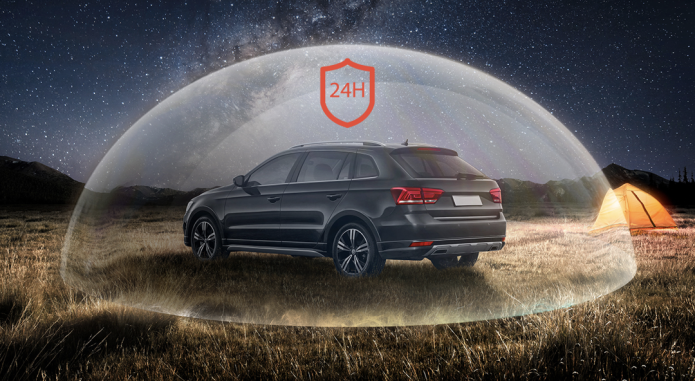 The G-sensor stays alert and the cam is ready to record when there's any motion detected.
If the car is hit, 70mai Dash Cam Pro automatically starts recording accident. It will remind you to check the event video when you go back to the car. NO hardwire cable, NO  battery draining.
 
During your commute, 70mai Dash Pro keeps recording and captures every moment. Videos are saved in TF card as solid evidence about what happened. The capacity of TF card is limited, so old videos will be overwritten by the latest ones. We recommend to back up the videos to your phone with our APP.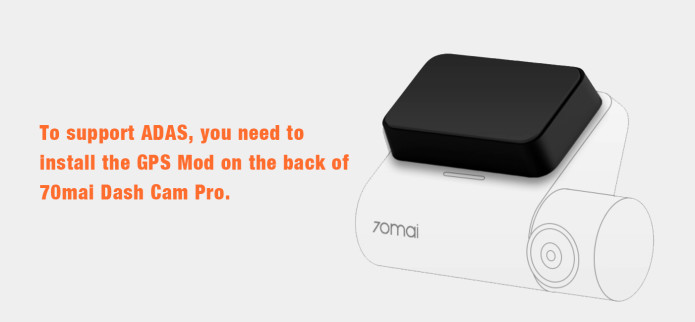 The Advanced Driver Assistant System (ADAS) of 70mai Dash Cam Pro will promote a safer drive-by monitoring sync traffic environment. ADAS, a modern highly sophisticated safety feature designed to boost driving safety, provides lane departure and forward collision warnings by sound prompt, rectify driving and assists drivers.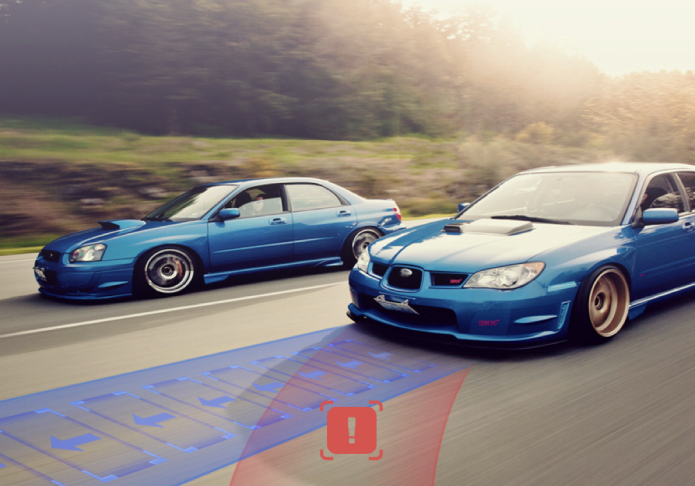 Real-time voice alert keeps you away from distracted driving tickets, providing you turn-by-turn route suggestion right in your line-of-sight.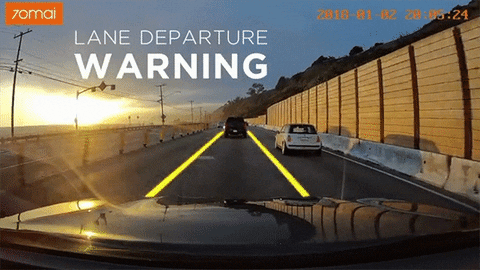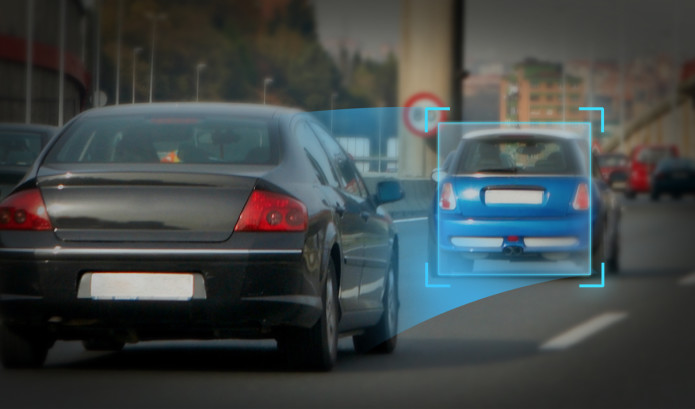 The Forward Collision Warning System (FCWS) helps drivers to keep a safe distance between vehicles as well as to effectively prevent and reduce rear-end crashes and accompanying injuries, especially for long fatigue driving, traffic jam or novice.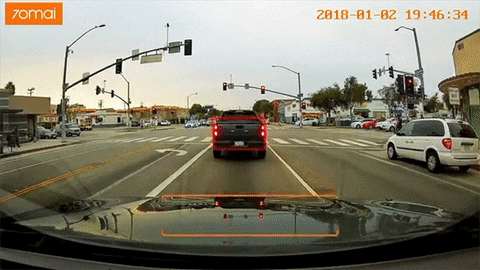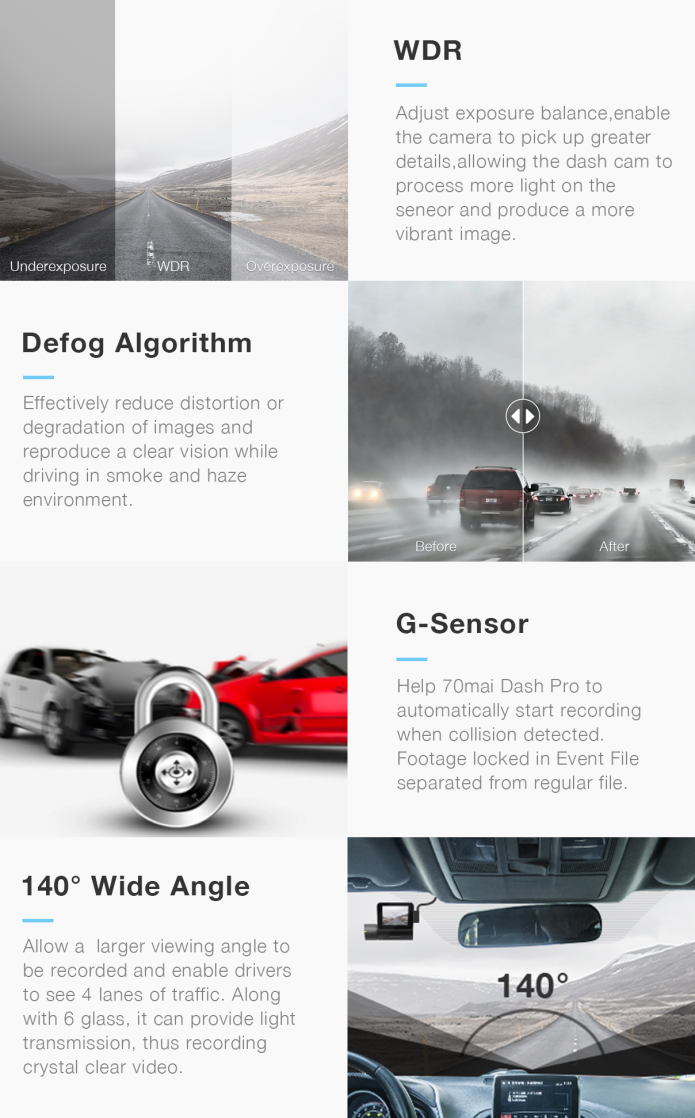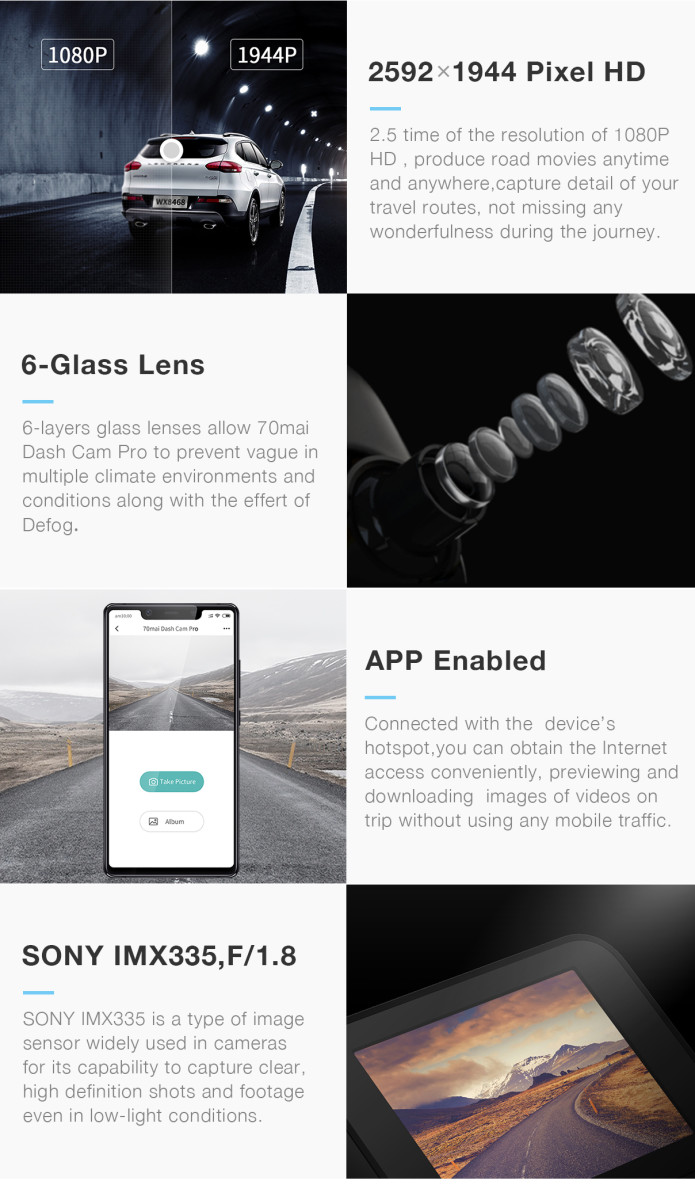 *Notice: The length of the Micro USB cable is 350cm (137.8 inches).


70mai is the only technology company focused on intelligent in-car electronics products among the 95 Mi ecosystem companies. Our mission is to connect every vehicle to the Internet and connect you to the future. We aim to deliver top-notch in-car smart products, so everyone can enjoy driving and traveling. Powered by the brand, channel, hardware, and supply chain capacity of our partners, we bring drivers, cars and the world together using the connectivity of the Internet.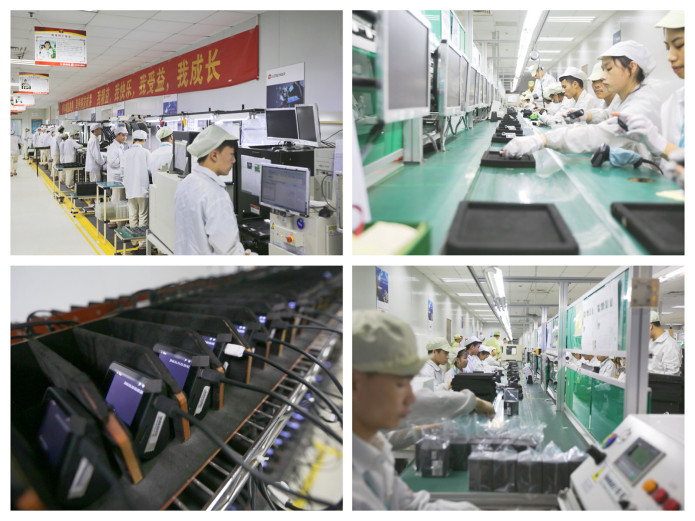 View full details
Shipping

We offer 7-10 days of Expedited shipping and 15-25 days shipping. Big item to the Middle East etc will be refunded if cannot be shipped.

Returns

We offer a 1-year warranty for all items, please contact us if there is any issue and we will be there for you.