Regular price
$1,199.00 USD
Regular price
$1,299.00 USD
Sale price
$1,199.00 USD
Unit price
per
Sale
Sold out
Share
Every day, we are faced with complex road conditions and uncomfortable commuting experiences, whether you live in big cities or small towns. ADO A20F, the latest off-road electric bike, offers a more comfortable ride even on bumpy, gravel, uphill, or other complex roads. Equipped with high-quality and innovative features such as electric horsepower and a full-body shock absorption system, you can break free and travel wherever you can imagine.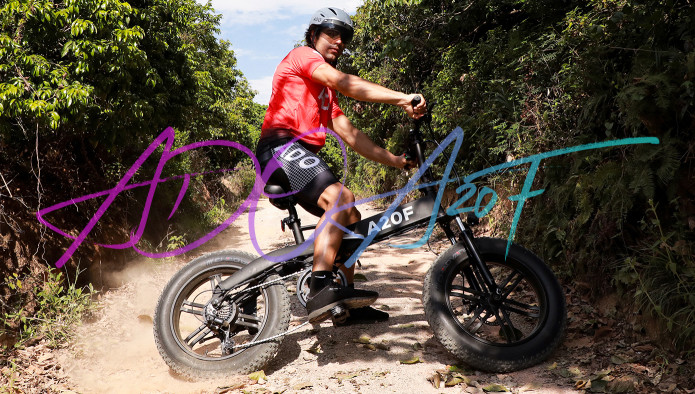 The A20F is equipped with various smart features and has everything you need in one bike. With an extended 50miles/80km range and a top speed of 24.8 mph, ADO A20F allows you to commute freely between home and work.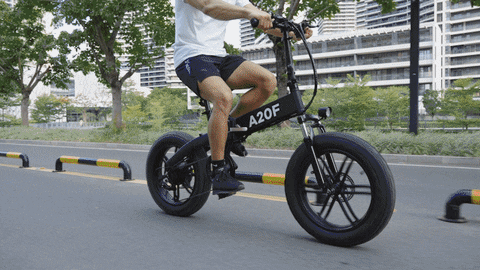 With wide 20*4.0Inch tires and a full-body shock absorption system, it can effectively reduce vibration in poor road conditions and ensure a safe riding experience.
It also features an ultra-lightweight and foldable design that makes it easy to carry or store in your room, office, locker, or trunk.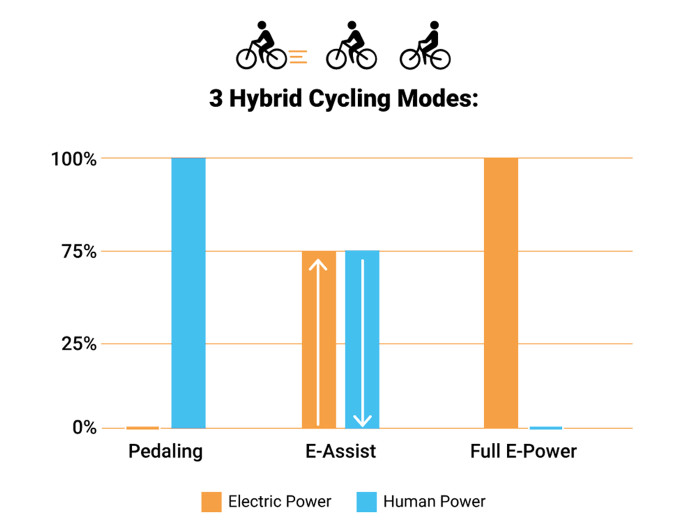 Easily switch between the three cycling modes to meet your needs. A20F's smart control system supports the efficient movement for a powerful and exceptional riding adventure that you have never experienced before. 

A20F brings together the elements of electric and manual cycling, designed within the dual modes: Off-road Mode and Quick Dynamic Mode. You can easily switch between the modes according to your preference and road condition. You can also control the acceleration and power through the pedals and throttle.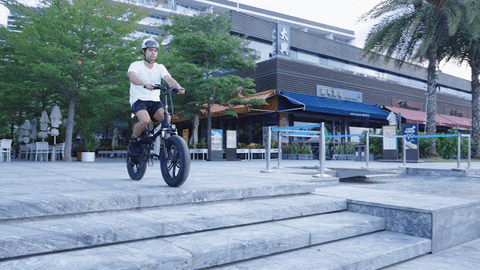 The Off-road Mode allows for a comfortable ride on the beach or in the mountains by controlling the electric acceleration on the pedals. Moreover, the Quick Dynamic Mode offers an exciting experience that allows you to ride fast at top speed.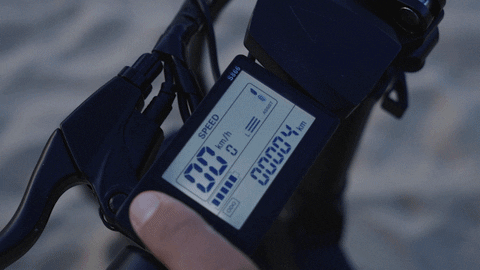 Thanks to its advanced High-efficiency DC Brushless Motor, you can ride your A20F pedal-free and enjoy a variety of riding options! The rear-hub motor provides the traction in all road situations so you can ride anywhere you want to worry-free!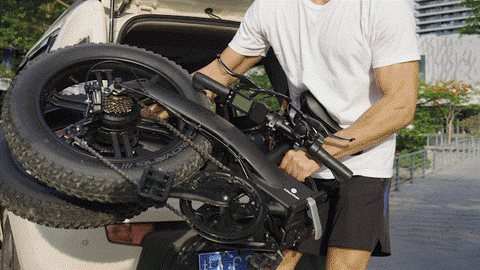 Equipped with a patented aluminum frame, E-biking is now breezier than ever before. The A20F's modern aerodynamic frame is an exclusive patented frame that underwent extensive road-friendliness testing and received a 3C safety rating.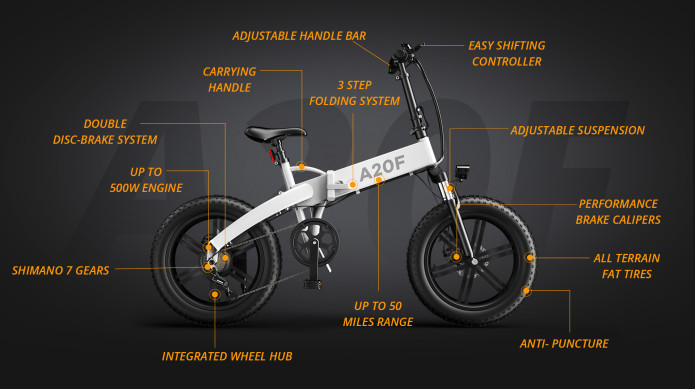 Furthermore, A20F's aluminum frame is ergonomically designed to be both lightweight and durable for increased riding efficiency, mobility, and safety. 

We often see high-quality bikes being too expensive and affordable bikes having inferior materials or poor design. We have eliminated the middleman and developed A20F with the goal of offering the coolest but also most affordable e-bike, all packaged in a bold, record-breaking design.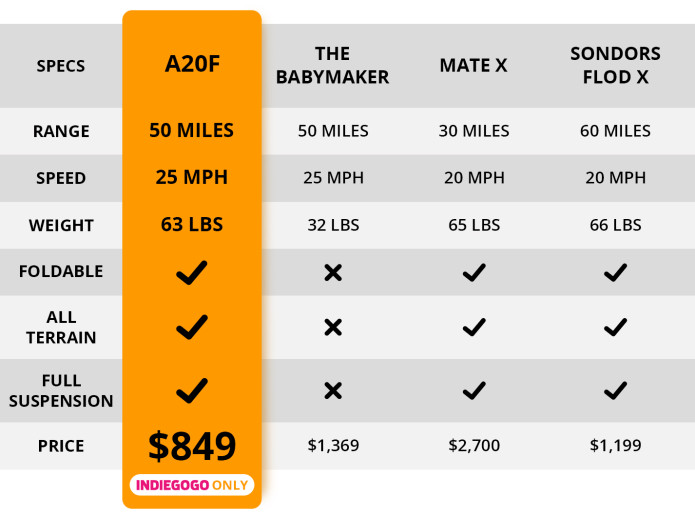 With a powerful 10Ah Lithium Battery, you can ride up to 50miles/80km on a single charge.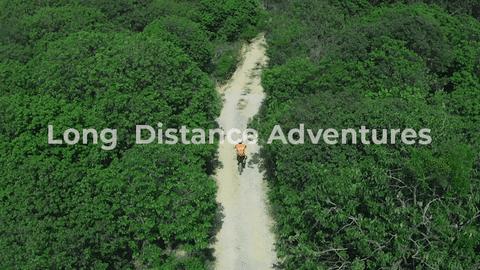 Its energy recovery system, regenerative braking system, and 3.25 gold transmission ratio design provide over 92% efficiency through the power sensor. In addition, the control system is perfect for long trips and fast circuits. Get ready to travel freely from the city to the countryside and beyond.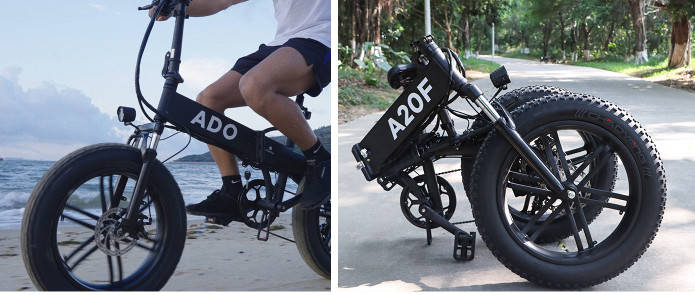 The innovative 3-step folding design enables the A20F to be convenient and compact with a small footprint. Simply unlatch the lock system of the frame and handlebar stem, which takes only 10 seconds! It can easily be stored in a car trunk, taken in elevators, offices, and more. Take it everywhere with you and enjoy an off-road cycling experience.

Reach your destination at a speed of up to 25 mph! The A20F is rear-wheel drive and has  a 500W motor at 380 rpm as well as high torque and uphill efficiency.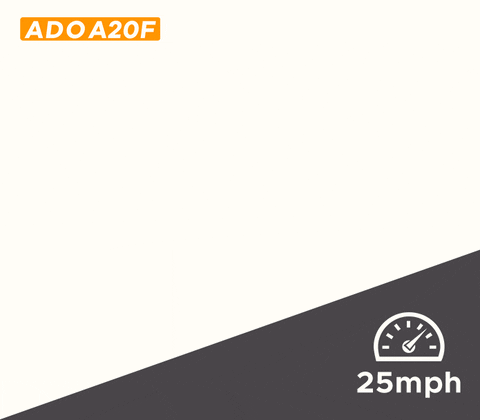 Also, the A20F is equipped with cruise control. Switch it on, and when the bike has the same speed for 5 seconds, it locks in that speed, and you can turn it off by braking. 


*To meet the regulation requirements in European regions, we have the C1 version that uses 250W motor and 25km/h. But you are also able to unlock the international version of 500W and 50km/hr following the instruction on user's manual.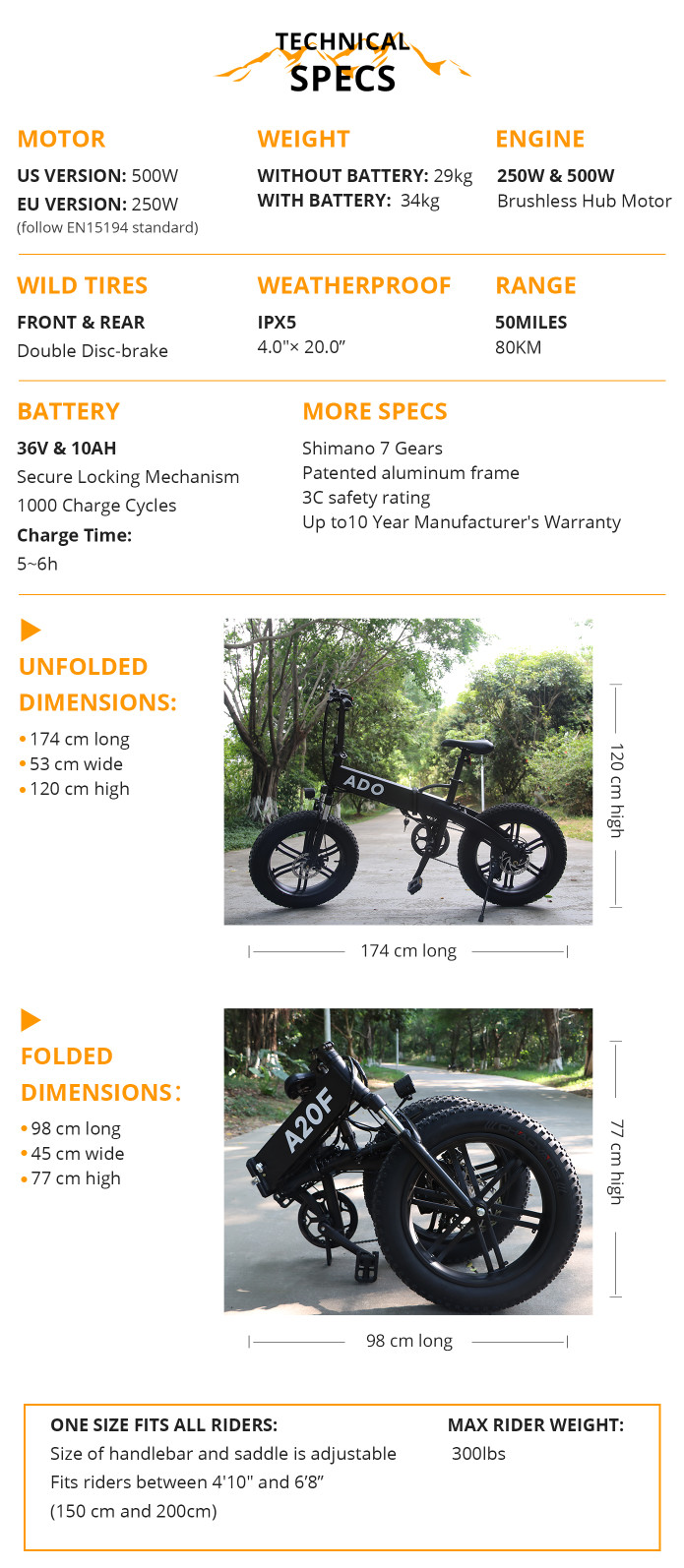 View full details
Shipping

We offer 7-10 days of Expedited shipping and 15-25 days shipping. Big item to the Middle East etc will be refunded if cannot be shipped.

Returns

We offer a 1-year warranty for all items, please contact us if there is any issue and we will be there for you.