Regular price
$299.00 USD
Regular price
$399.00 USD
Sale price
$299.00 USD
Unit price
per
Sale
Sold out
Share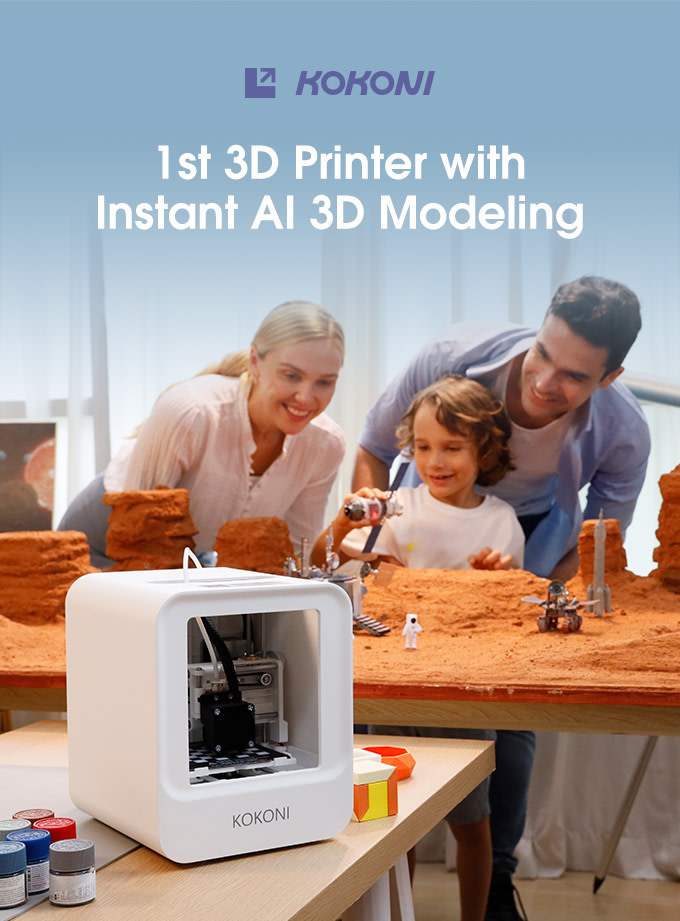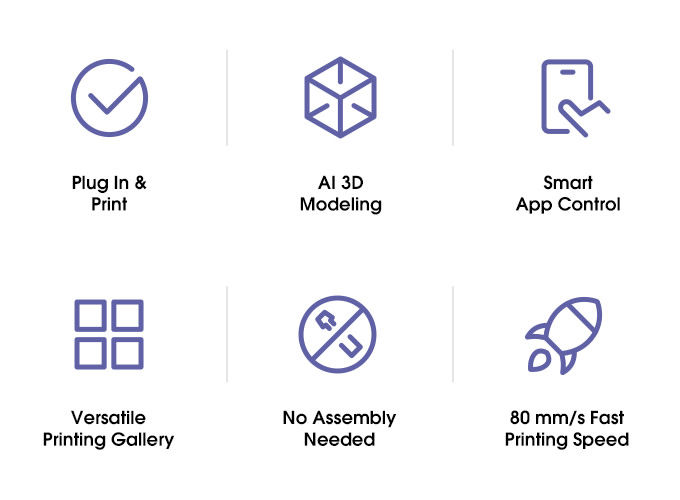 Check Out the Fresh Review

Tired of expensive and complicated 3D printers? Wondering how to start as a beginner or how to get kids into 3D printing? Say hello to KOKONI, and all those troubles will disappear! KOKONI makes 3D printing possible for everyone!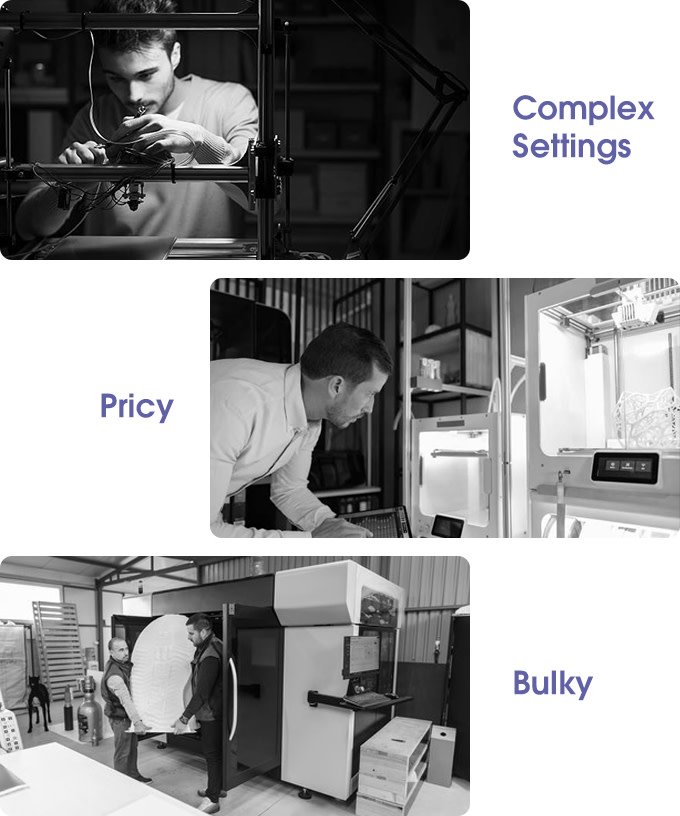 You don't need to be a professional artist or designer to get creative with 3D printing. 3D printers are amazing, they can print literally ANYTHING. However, most printers on the market are designed for professionals or people with 3D modeling & DIY skills. The steep learning curve of these printers makes them difficult for beginners or kids.  With the KOKONI 3D printer, anyone can easily create fantastic 3D characters or objects.
That's why we invented KOKONI, the world's-first AI-integrated 3D printer that's easy enough for everyone.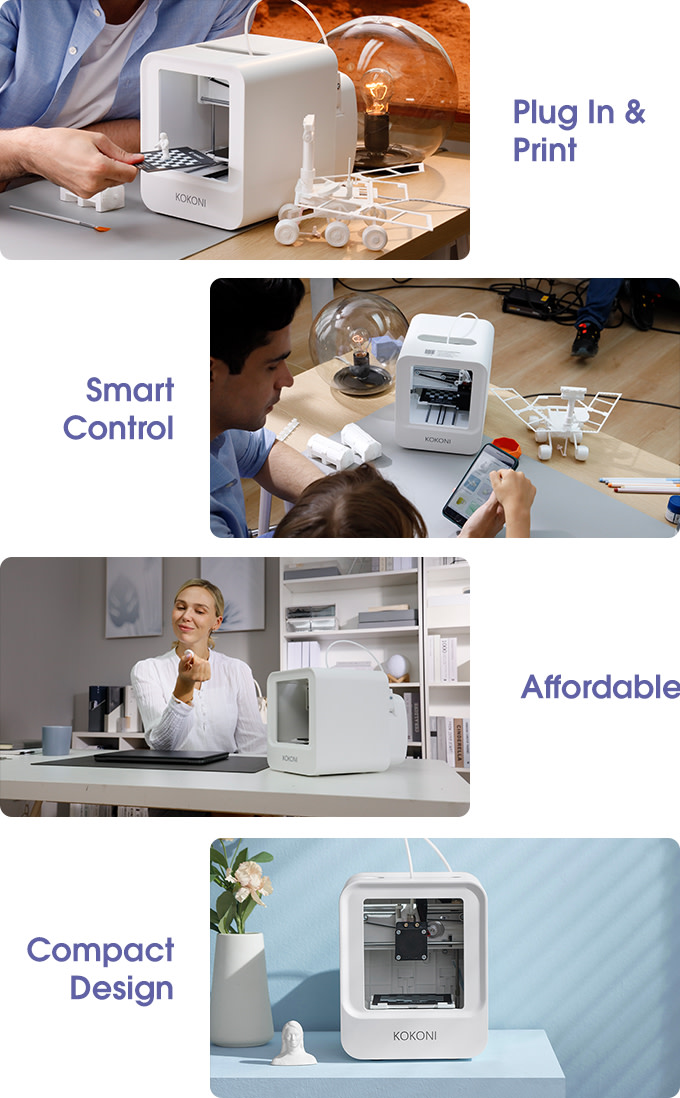 What you see is what you get. A smart AI algorithm is used to model photographs, without the need for a separate scanner. Just take a picture and upload it via App then KOKONI will automatically generate a model prototype and print it. We're going to bring you a brand new and amazing printing experience. 
Create a unique 3D model or avatar by simply snapping or uploading photos to the App, and let your creativity shine! Now, you can make anything from personalized avatars of your favorite anime or movie characters to complex models for art or school.

We live in a 3D world and our eyes have the incredible ability to perceive depth information. When we see an object with both eyes, we already have a 3D model of the object in our minds.
Enabling machines to create 3D models works on a similar principle,  our photo modeling method is based on the recent development of deep learning technology. The algorithm first learns from numerous sample data to obtain an understanding of the 3D object's appearance in the real world. This process has been perfected over the past two years, as we collected tens of thousands of 3D model samples and their corresponding pictures to optimize our machine learning algorithm so that it can generate high-fidelity realistic 3D models.
How can we turn a picture into a 3D avatar model?
In "Avatar Modeling", we only need to input 1 picture, and the algorithm uses deep neural networks to extract the 3D features.  Then the neural network performs nonlinear processing of the features according to the learned method (at this point the neural network already has the ability to generate a realistic model), and finally, a realistic frontal 3D face is produced. As for the back of the avatar that the picture didn't capture, the algorithm has already seen numerous 3D models of the "avatar" (as priori knowledge), so it can consistently complete the remaining features based on the recognized front features. The final result of the algorithm is a complete model that can be printed in 3D.
How can we convert multiple pictures into a 3D model?
In "Object Modeling", we need more images for the algorithm to extract more information and these images need to be taken in a certain order. For each image, the algorithm will estimate the 3D depth information using the adjacent angle images taken, similar to how the human eye  perceive depth using both eyes. We then use the estimated 3D depth as a further clue to generate a complete 3D model based on the global semantic information. Finally, secondary optimization is performed to correct features that do not match the picture information, and the final output of the algorithm is a complete manifold that can be printed in 3D. We combine the benefits of deep learning with the traditional optimization process - unlike traditional optimization-based photogrammetry, our deep learning-based approach captures global semantic information and combines prior knowledge of lighting and texture to make reasonable initial estimates, and also exploits the benefits of the optimization method to maximize the use of multi-view images taken by the user to target the synthesis of high-fidelity and 3D-printable models.


No assembly needed, no extra settings or complicated operations, just open the box, plug it in, and you're ready to go. Weighing only 6.83lbs (3.1 kg), you can easily pack and carry the KOKONI 3D printer everywhere. KOKONI is leveling-free and free of maintenance, with easy smart app control. KOKONI is a user-friendly tool that eliminates the gap between your ideas and your creations.

KOKONI maximizes your 3D modeling choices, allowing you to bring your ideas, inspiration, and imagination to reality. It's the ideal approach to start exploring the world of 3D modeling for beginners, hobbyists, and experts alike, and it's easy to use for all ages.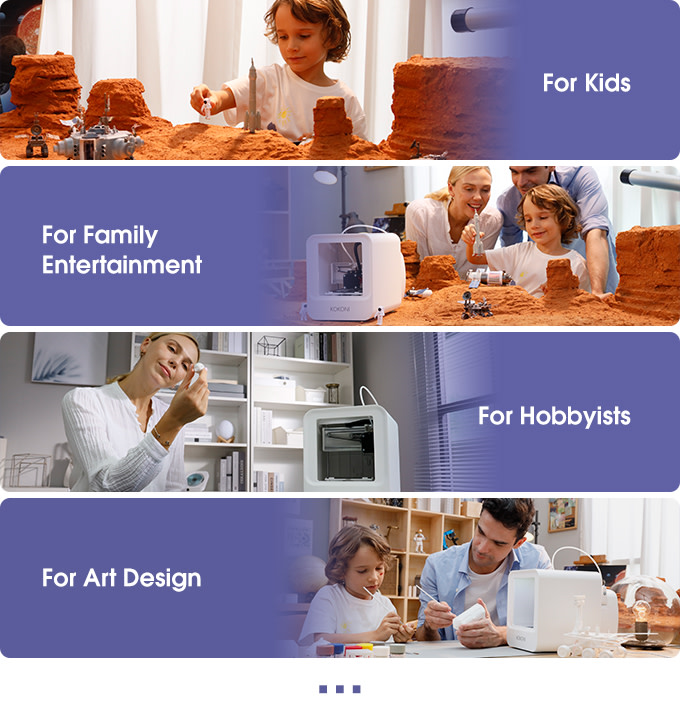 KOKONI is designed for new creative experiences and fun, such as building aircraft models, architectural models, and toys. KOKONI can be your children's best companion and the hands-on process inspires their imagination and early childhood development. Why not use KOKONI to make unique toys and have fun together with your children? KOKONI is perfect for family fun and entertainment.


3D printing has never been easier - all the incredible features are now at your fingertips! Enjoy total control using smart app commands without the need for extra cable connections or complex setups. Smart 3D modeling step by step via the app is designed to be as intuitive as possible. Equipped with a wide range of free printing model galleries and a model-building function that uses uploaded pictures in the KOKONI App, you can unleash endless creativity right from your smartphone. This is KOKONI: Creative, Effective, Innovative.


In order to provide you with a hassle-free experience, KOKONI 3D Printer is designed to connect with computers seamlessly. In addition to working with a smartphone, you can also upload or import your own files from computers for 3D printing.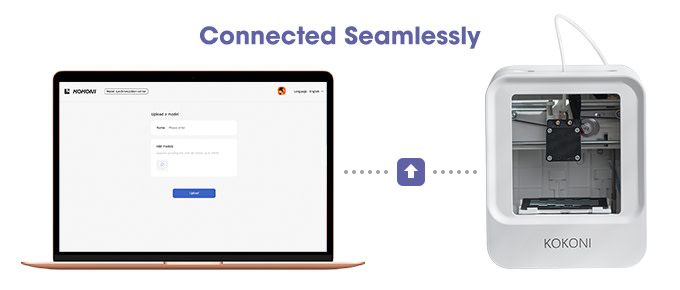 ​
With a self-developed nozzle, KOKONI is the perfect platform for precision. 
Printing at 0.04-0.35mm layer thickness, KOKONI has an incredibly high resolution. The positioning accuracy is 0.0025mm Z resolution, and 0.011mm XY resolution.

​
KOKONI comes with a fast printing process with speeds up to 80 mm/s. A motherboard with a 1.4GHz quad-core processor and self-developed silent driver provides faster processing along with an integrated AI motion control algorithm and wireless IoT.
​

KOKONI is also a good helper for the home office, with 30dB ultra-quiet printing that allows you to work without disturbing others. Especially during this pandemic, everyone is spending more time at home. We want to contribute by providing more bang-for-your-buck with innovative home office desktop appliances that will enhance everyone's quality of life.


To get smoother model surfaces and no clogging issue, we developed our exclusive PLA filament box.  Precise, non-toxic and safe for children. 
*KOKONI is also compatible with other PLA materials on the market. However, to achieve better printouts and protect the machine, we do recommend that you use our filaments. 

​​
We offer 8 PLA material color options at affordable prices: White, Yellow, Orange, Red, Green, Purple, Black, and Blue. Choose your favorite color! 
A white filament material box is included in the basic package, and you can get more filaments as add-ons.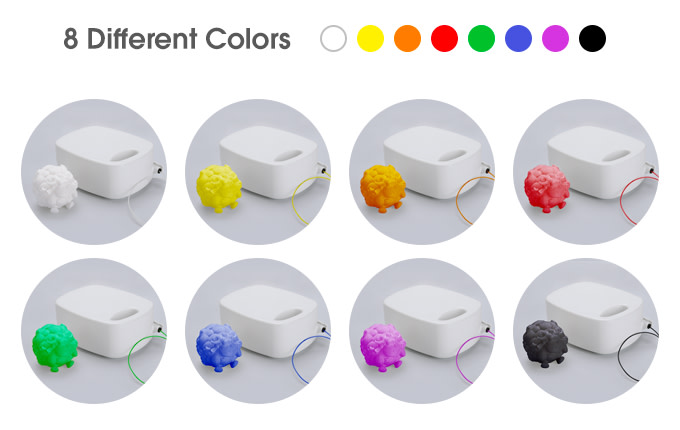 You can check the remaining filament on the App before printing. But no worries, KOKONI will automatically stop printing when the filament runs out, and the app will notify you that there are no more materials. Then simply replace the filament box.

The design of KOKONI is an elegant integration of technology and a minimalist aesthetic, where power and beauty perfectly coexist. You can DIY home decorations or useful gadgets with KOKONI and this beautiful device can be a decoration itself. The sleek white cover was designed to blend into a multitude of working environments and home decorations.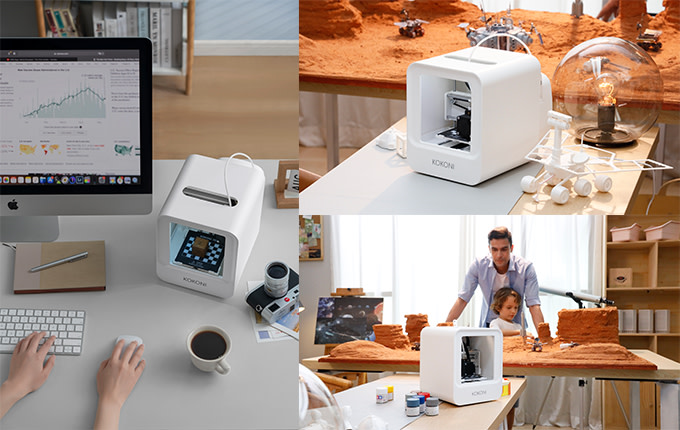 KOKONI has an eco-friendly awareness in mind. Better for printing, better for the planet. We provide a new type of material based on PLA. It is made of starch raw materials, corn and other natural ingredients. The relative biodegradation rate in 180 days is up to 94.3%. It can completely degrade naturally by microorganisms under specific conditions, eventually producing carbon dioxide and water without polluting the environment, which is very beneficial to the planet.
The power supply complies with the US DoE VI and European CoC V5 energy consumption standards and the machine has no heated bed required, saving 80% on energy and reducing carbon emissions.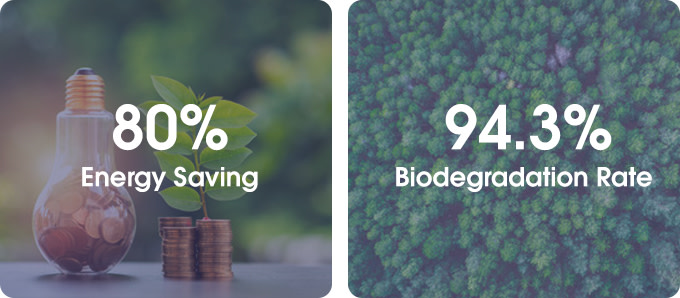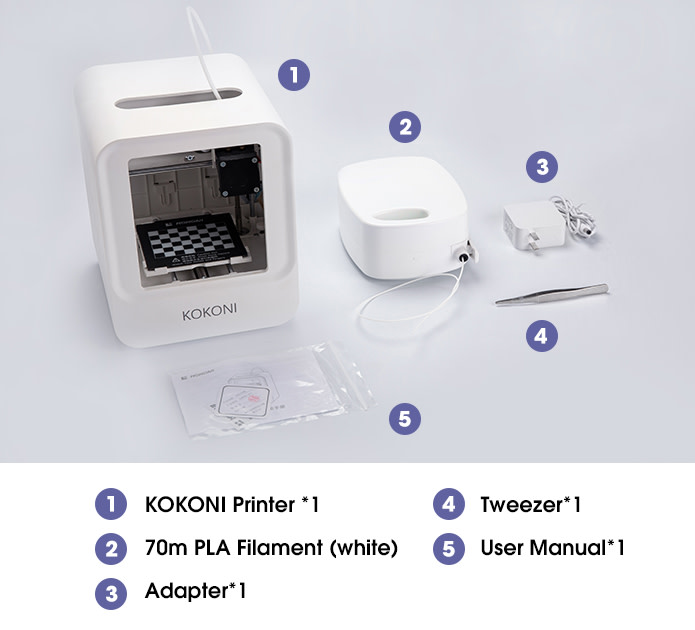 View full details
Shipping

We offer 7-10 days of Expedited shipping and 15-25 days shipping. Big item to the Middle East etc will be refunded if cannot be shipped.

Returns

We offer a 1-year warranty for all items, please contact us if there is any issue and we will be there for you.