Regular price
$699.00 USD
Regular price
$799.00 USD
Sale price
$699.00 USD
Unit price
per
Sale
Sold out
Share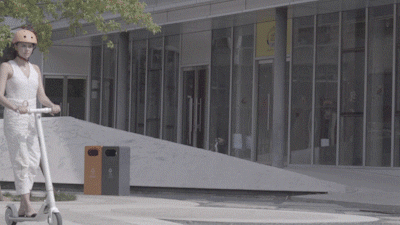 Limited Quantity | One-Step Folding System | Lightweight & Portable | Best Scooter for Commuting
The Ninebot KickScooter by Segway ES2 - White is built with high-strength, lightweight aerospace-graded aluminum alloy. The one-click folding system allows the ES2 - White to be carried on public transportation, stored in your car, and more. Grab the super early bird deal now, limited quantities are ready for shipping in the U.S. and Canada!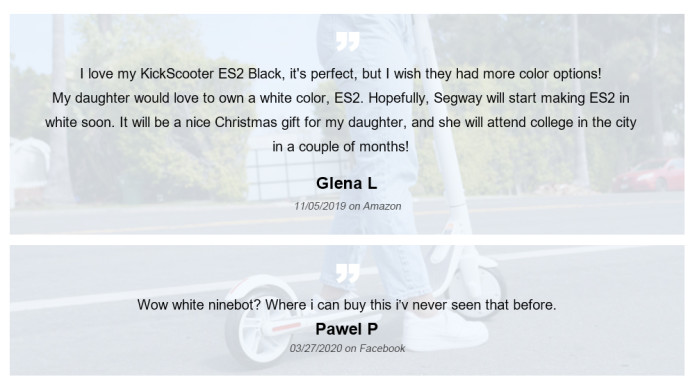 We heard your voice, and now we are launching the first-ever ES2 - White, an ALL White version of our best-selling Ninebot by Segway KickScooter ES2. Like everything in Fashion, ES2-White is here only in limited quantities.
The ES series has always been one of Segway's top-selling kickscooters with over 1M units sold worldwide. The tailor-made ES2 - White inherits every feature from the original ES2 and brings more possibilities to elevate your styles of urban commuting. And for the first time, it comes with a tailor-made edition in white color, available exclusively to our backers.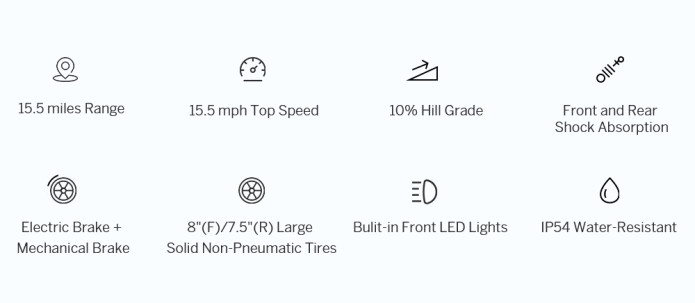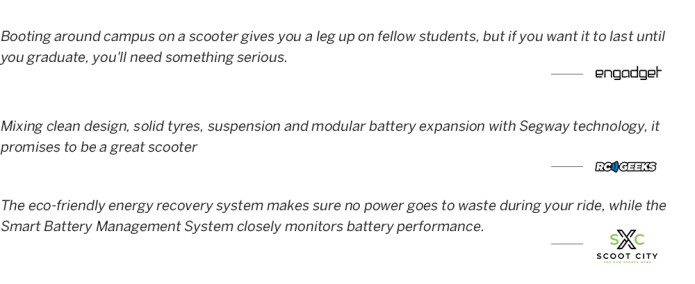 *Coverages are based on Ninebot KickScooter by Segway ES2.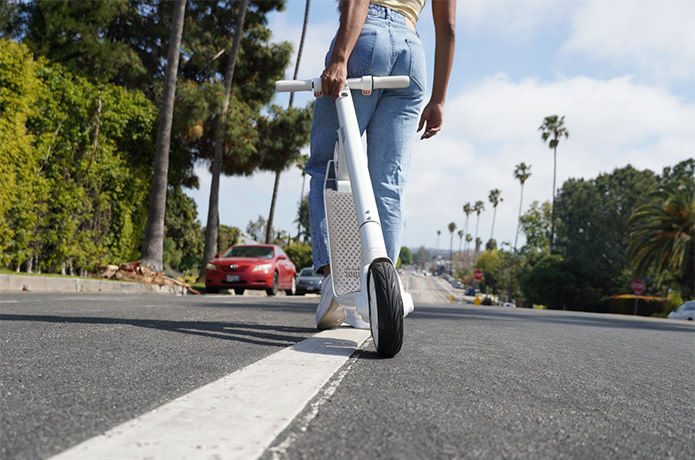 The Ninebot KickScooter by Segway ES2 is built to be wheeled along like a suitcase with its compact structure. The one-click folding system allows this lightweight KickScooter to be carried one-handedly, making it the perfect lightweight travel companion. It can be stored in your trunk, office, or carried on public transport. Featured with a customizable LED display, the white body of the ride makes a minimalistic yet sophisticated statement bringing fashion and technology to the fullest.
Reinvent Your Commute
One-step Folding System
Ninebot KickScooter by Segway ES2 is lightweight and easy to carry with a breeze. The one-step folding system allows you to carry it on public transportation, store it in your car and take it to any destination you desire.
Powerful Machine
Travel up to 15 mph (25 km/h) powered by a 700-Watt hub motor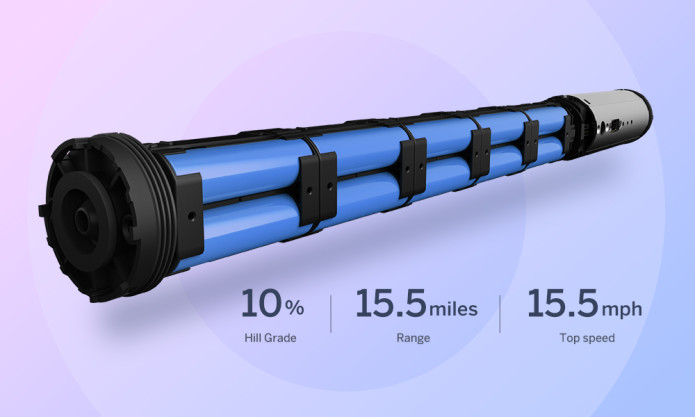 The Ninebot by Segway KickScooter ES2's high-power lithium battery allows a maximum speed of 15.5mph (25 km/h) to take you anywhere in a snap. The motor powers up to 700W, and you can travel effortlessly within a maximum range of 15.5 miles (25 km). The ES2 - White is equipped with a cruise control option for even better rider comfort.
Light Up Your Way
Built-in Front LED Light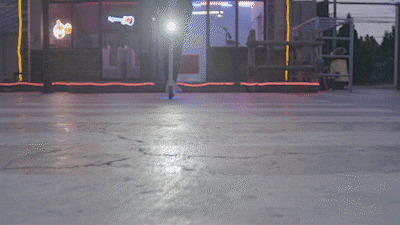 The ES2 - White is designed with front-facing lights are designed with a 1.5w high-brightness LED light to illuminate the path ahead of you and to increase your visibility to others around you. Match the ES2 - White's colorful LED lights to your style and stand out along the way!
 Stop and Go at Your Fingertips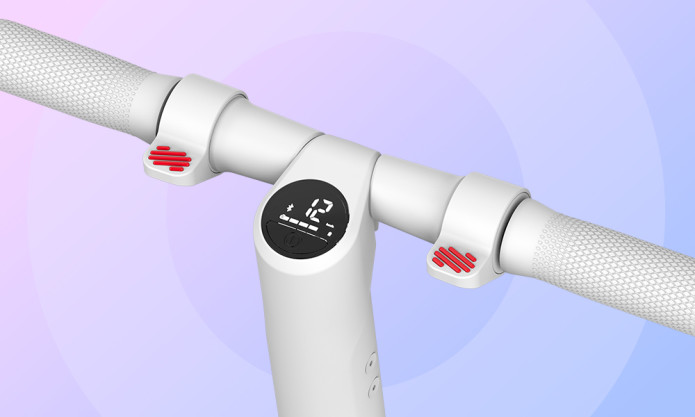 With a single push of your thumb, you have full control over your ride.
Shockingly Smooth
Dual Suspension System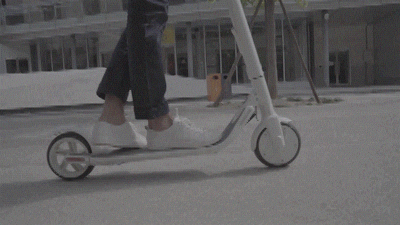 Suspension on the front wheel maximizes riding stability, cushions the bumps, and absorbs the shock to make the ride safe and smooth. The front and rear wheel shock absorption provide maximum rider comfort.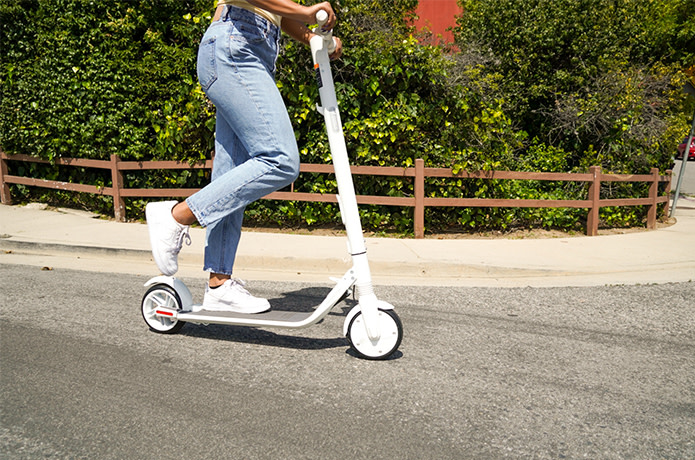 Manage Your Every Trip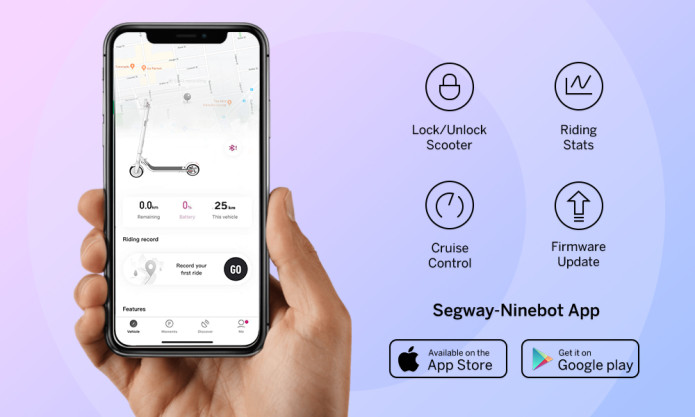 Ninebot KickScooter by Segway ES2 - White connects with Segway-Ninebot App allowing you to manage rides at your fingertips at any time and anywhere.
The Segway-Ninebot App connects via Bluetooth and you can access live riding stats and additional functions such as cruise control, security lock, riding mode changes, firmware updates, customize LED ambient light, and more.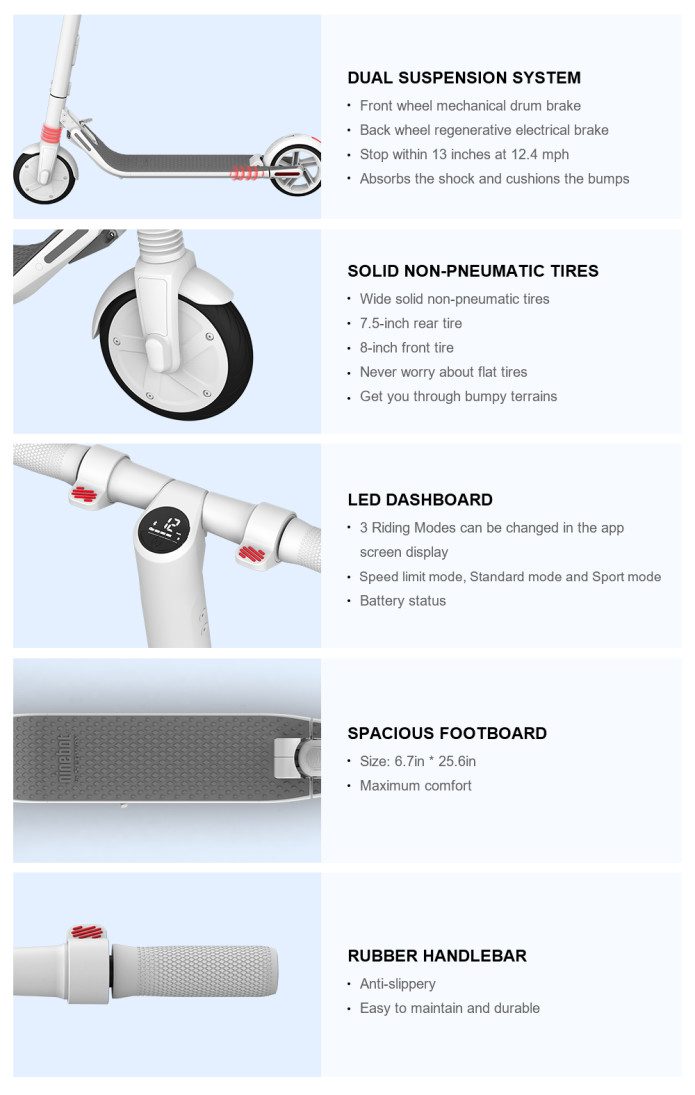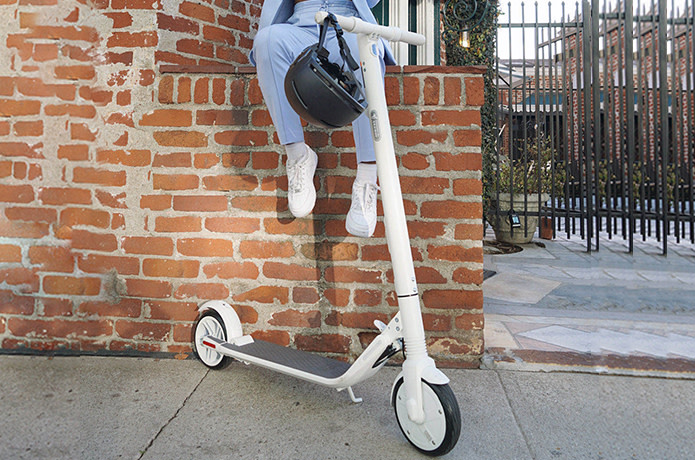 The vehicle's structure was carefully analyzed by a CAE simulation system and passed through 6,214 miles of road ride testing. Also, the stable footboard is designed with a slip-resistant surface.
View full details
Shipping

We offer 7-10 days of Expedited shipping and 15-25 days shipping. Big item to the Middle East etc will be refunded if cannot be shipped.

Returns

We offer a 1-year warranty for all items, please contact us if there is any issue and we will be there for you.