Regular price
$419.00 USD
Regular price
$429.00 USD
Sale price
$419.00 USD
Unit price
per
Sale
Sold out
Share
99.98% Filtration Rate|Adaptive Detect & Purify|240m³/h CADR |Covers Up to 320ft² | Battery Powered

Smartmi is one of the most popular air purifier manufacturers, with over 10 million users worldwide. Our team has been on a mission to make that a reality by developing the greatest air purification technology at a price range that is affordable to everyone. And we've done it once again with the Smartmi P2!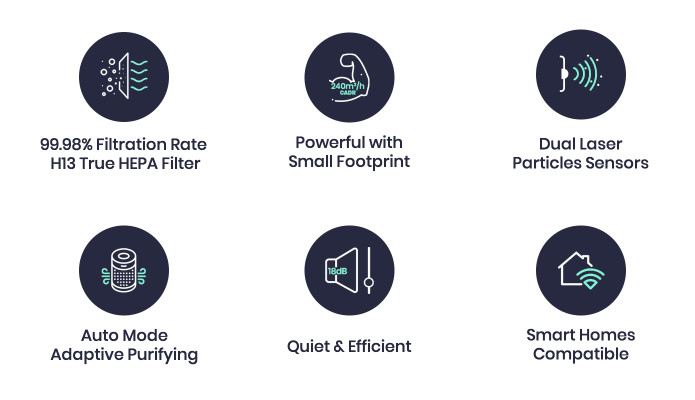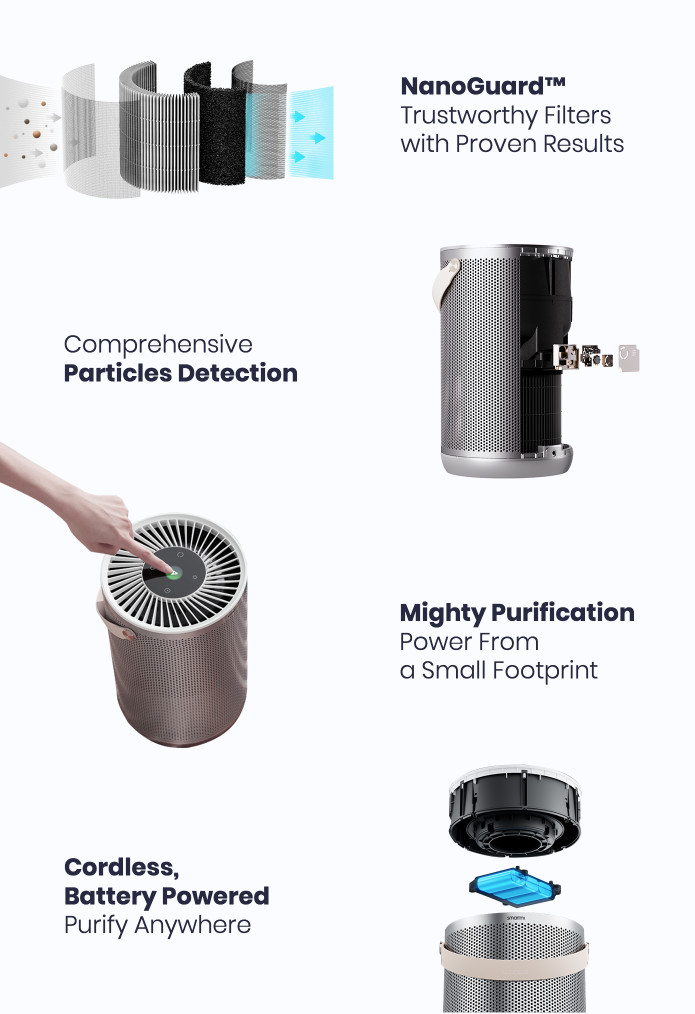 P2 effectively purifies pollen, smoke, dust, pet dander, bacteria, and other particle pollutants with its efficient air duct, fan design, and professional NanoGuard™ filtration technology, while also removing cooking odor, furniture and carpet odor, pet odor, and other harmful gas pollutants with column activated carbon. High-quality filter materials efficiently filter particle pollutants above 80nm with 99.98% efficiency.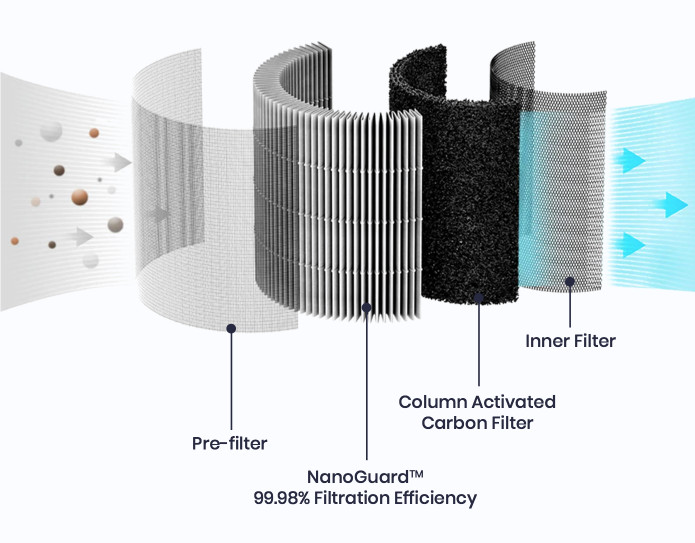 Smartmi P2 effectively cleanses your air with 4-stage H13 HEPA filters that stop particles as small as 80 nanometers and have a 99.98% filtration rate.

Small yet powerful. P2 can instantly purify a room up to 28m² (320ft²) in 10 to 20 minutes, making it ideal for a bedroom, kitchen, baby room, or pet living area. 250m³/h CADR purifies 320ft² area 5 times in one hour.

With its small size and built-in battery and handle, P2 can be taken anywhere. Simply take it and place it in your living room, bedroom, outdoor area, or even your closet to provide you with limitless clean air.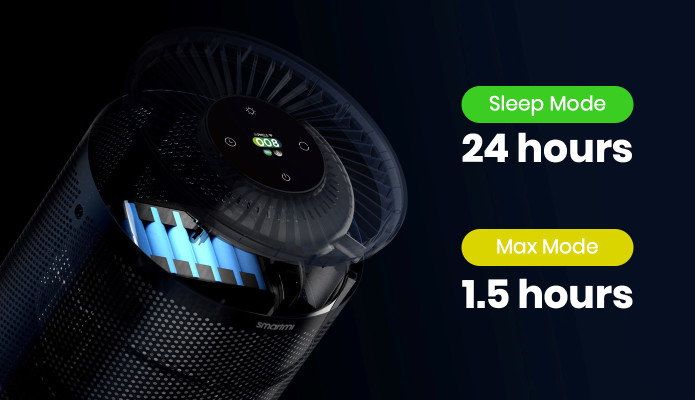 Incredible long stand-alone running time ensures you have fresh breathable air where you and your family need the most.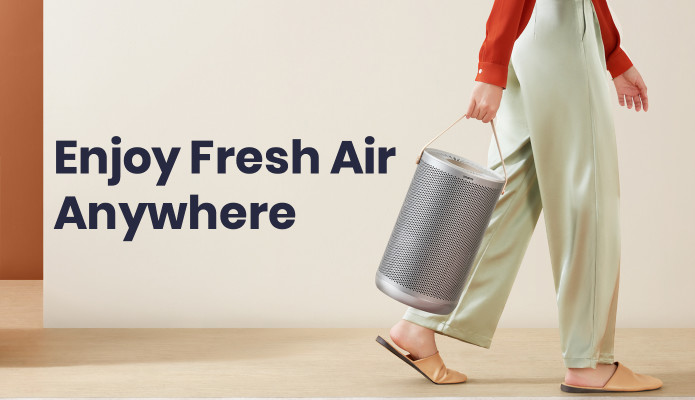 Review video by Shane Whatley
Review video by Rey G
Rey: "P2 can filter efficiently in unexpected situations and places like when neighbor's cigarette smoke breeze in the house. this alone makes P2 worth the admission. " 
Review video by The Brad Lloyd
The Brad Lloyd: "This air purifier has so much to offer from it's design to a 4 stage HEPA filter to remove toxins, smoke, pet dander, hair, pollen and odours. Now it's easier than ever to move it from room to room. "
Review video by HomeKit News and Reviews
HomeKit News and Reviews: "it's truly portable, as the P2 contains rechargeable batteries, meaning you can take it anywhere you like without worrying if there's a power outlet within reach."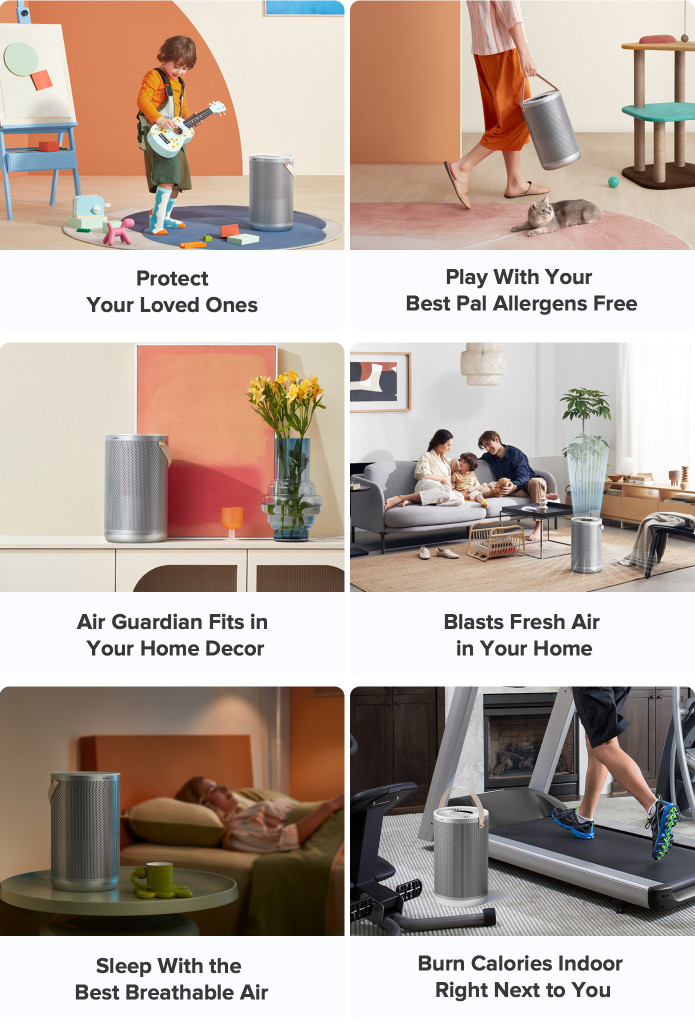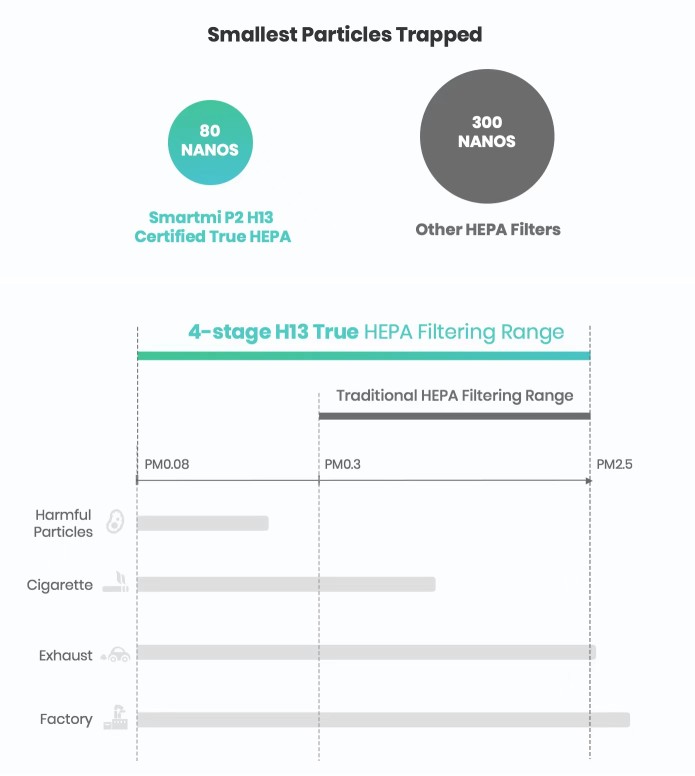 Smartmi P2 provides clean air at an affordable price. The certified H13 True HEPA filter starts at $29 and provides clean, healthy breathing for 6 to 12 months at a low cost.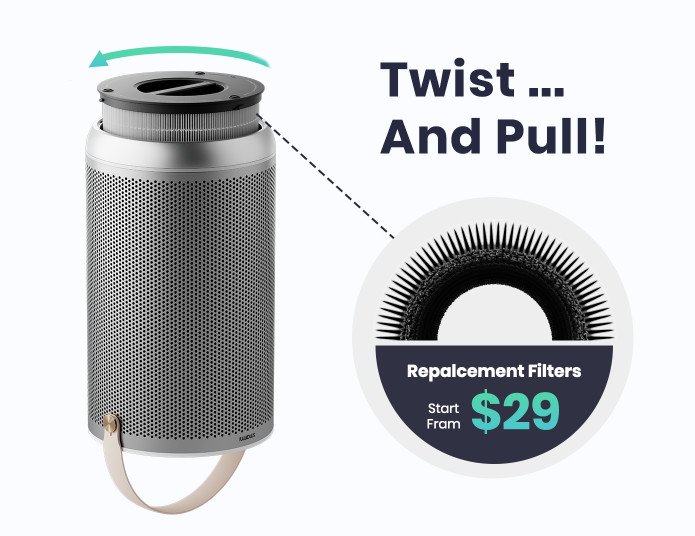 With a CADR of 250m3/h, Smartmi P2 absorbs pollutants and blows clean, fresh air to every area of the room through a 360° air inlet and a top air outlet. It purifies the air in your room continuously.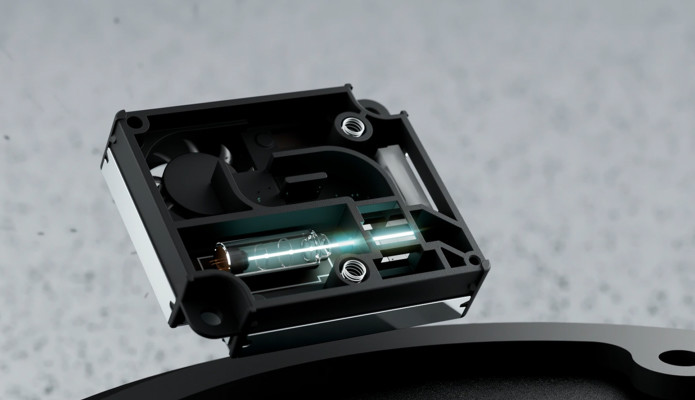 We all adore plants. Plants may assist with loneliness and sadness as well as improving your mood and providing a peaceful living atmosphere; caring for a living thing gives us a purpose and is fulfilling, especially when you watch that living thing blossom and grow. But, at that more pleasurable time, what about the pollen allergies you and your family suffer from?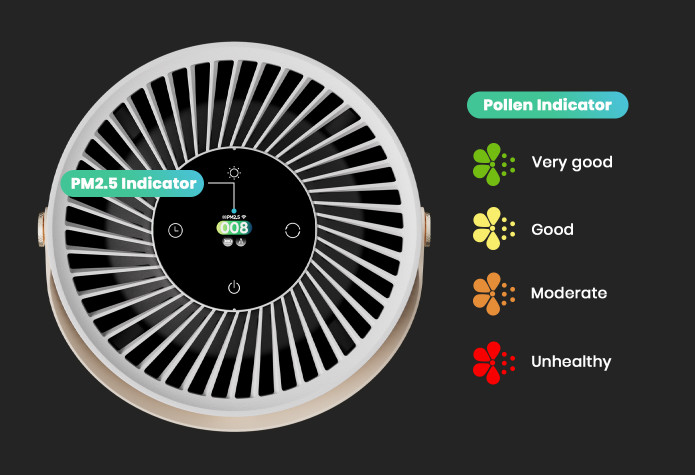 The PM2.5/PM10 laser particle sensor detects and monitors particle pollutants in the air such as pollen, dust, smoke, wildfire smoke, volcanic ash, and so on, and then shows the air quality on the screen and app while automatically adjusting the purification speed.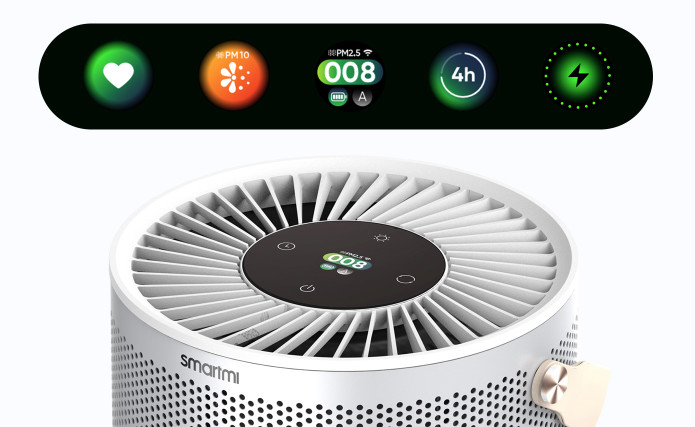 The colorful touch screen clearly displays AQI, purification mode, battery life, and WIFI. With a single tap on the screen, you may turn on/off P2, it can also select purification mode, set a timer, and check other settings.

Although some dust may be seen in direct sunlight or UV rays, most purifiers can only detect and filter smaller particles (PM2.5). According to a research, the particles that cause allergy symptoms, such as pollen, are actually PM10. Those air purifiers always ignore the issue, much alone actively filter it.

The Smartmi P2 will keep you updated on air quality insights and regulate the fan speed accordingly, thanks to dual laser particle detection and a specialized APP. You can now relax and enjoy the fresh air.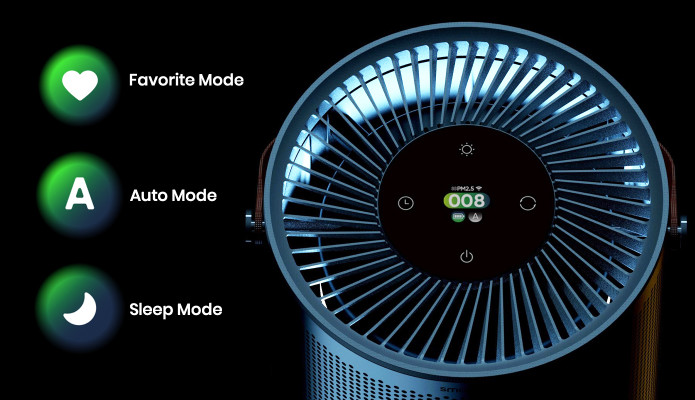 P2 has three purifying modes: auto, sleep, and favorite. When you select the auto mode, P2 will automatically change the purifying speed based on the air quality sensor.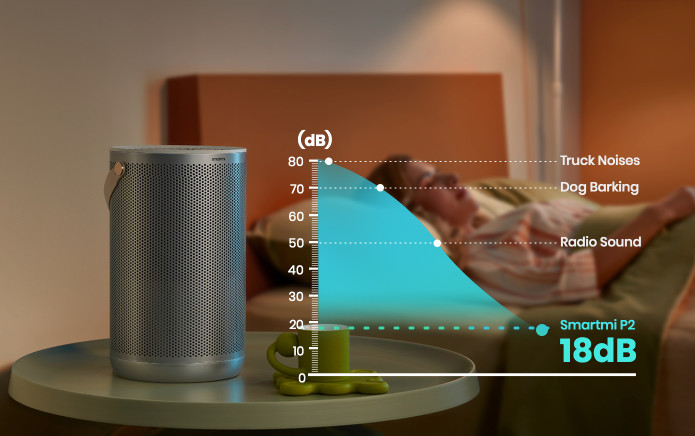 The brushless DC motor and advanced wind tunnel design allow the Smartmi P2 to run as quietly as 19dB. In comparison to the industry average noise level of 40dB, you can enjoy the fresh air without interruption.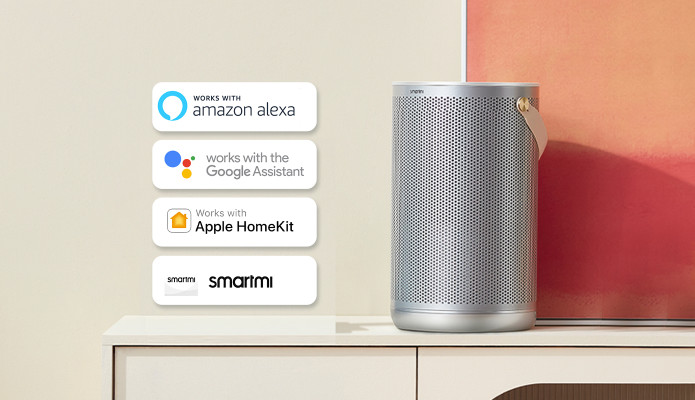 Smartmi P2 is our first air purifier that can communicate and work with all of the current smart home systems. A smart house can now be a genuinely pleasurable home with wonderfully fresh air. Imagine your life with the Smartmi P2, where you can communicate with your preferred voice assistant for real-time air quality alerts and remote controls.
View full details
Shipping

We offer 7-10 days of Expedited shipping and 15-25 days shipping. Big item to the Middle East etc will be refunded if cannot be shipped.

Returns

We offer a 1-year warranty for all items, please contact us if there is any issue and we will be there for you.