Regular price
$239.00 USD
Regular price
$249.00 USD
Sale price
$239.00 USD
Unit price
per
Sale
Sold out
Share
12Kpa Suction | High-Pressure Water | High-Temperature Steam | For Various textiles | Self-Cleaning
UWANT B200 is a breakthrough spot cleaner that fights stains in ways other spot cleaners can't. We know that getting rid of stains can be a constant battle. Stubborn spots are a pain to remove, and fighting stains by hand is even harder. Lugging rugs and blankets to the cleaners or washing them outside is a trip no one wants to take.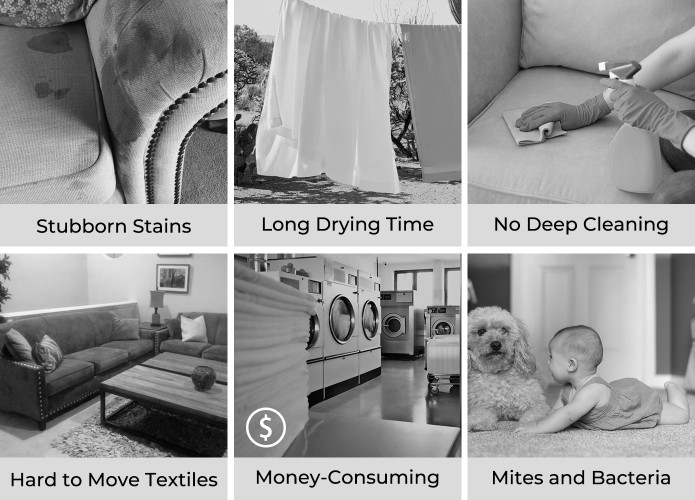 However, UWANT B200 solves all your problems. With the 4-in-1 cleaning system, it removes stains quickly even at the deepest level, while getting your fabrics and upholstery dry faster than other cleaners. Three cleaning modes help you battle all kinds of spots, with high-temperature steam to dissolve the toughest stains even below the surface — without all the elbow grease.
With patented self-cleaning for keeping itself fresh, and an extra long reach for tackling far away stains, B200 is a revolutionary spot cleaner that permanently removes stains to get your furniture, and fabrics back to how you love them.

Review from @TESTSIEGER TV
Review from @Paul Taligato
Review from @BestProducts
This is the real test video of the UWANT B200's cleaning effect. Stains in the carpet are removed in a flash.
This real test video shows that under the steam mode, the UWANT B200 quickly softens and removes the stubborn stains in an effortless way.
There's a universal wheel and two smooth wheels on the bottom of the UWANT B200. This real test video perfectly shows that the UWANT B200 can be moved without any effort. 


Removing the toughest stains calls for a powerful approach. B200 uses a 4-in-1 washing process to take the toughest spots out of every thread of fabric.
Weather it's stains, dust, liquid, or even germs, UWNAT B200 can deal with them. Thar's how powerful the 4-in-1 process is.

It dissolves away stains from sofas, curtains, and mattresses with a compact design, so you don't have to rearrange the furniture every time you clean. Cleaning out the car? B200 is perfect for tackling vehicle interiors like car seats, floors, and mats. With anti-bacterial tools and a high-temperature steam mode, the B200 can disinfect pet belongings like cribs.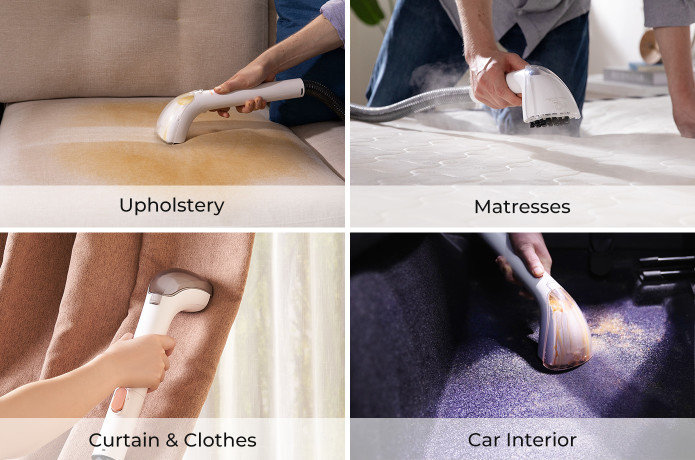 B200 attacks stains by going deep. It uses a higher water pressure than other spot cleaners, shooting water up to 2.36-inches into the stain to dissolve dirt at the deepest level. All it takes is the push of a button — no head changing, zero filters — and you get a powerful stream of water firing into the heart of the spot, breaking down stains from the inside and separating them from your fabric.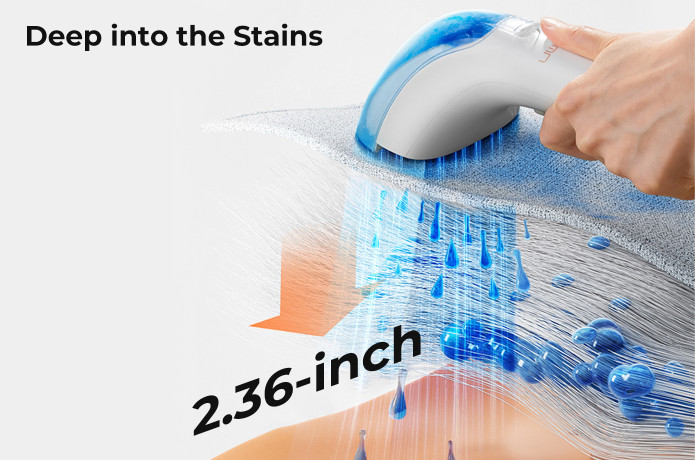 Unlike other cleaners, the B200's brushes feature an anti-bacterial material that fights odor and prevents the spread of bacteria with every pass. And its firm but gentle brushes are tough on stains, knocking loose dirt at the deepest level while being delicate enough for your favorite threads.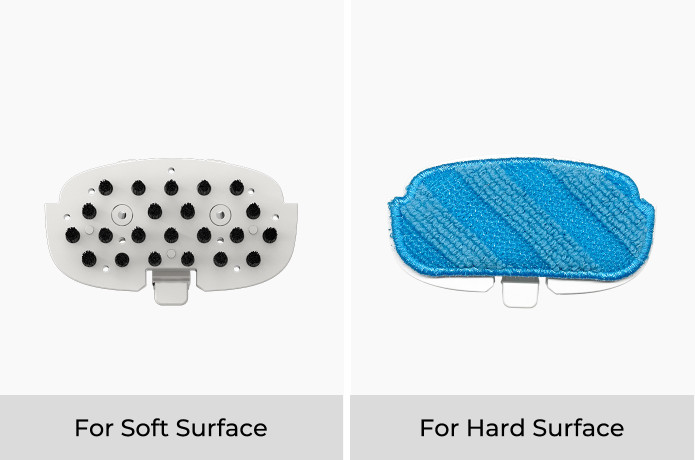 Doctors don't operate in a dirty room, and the B200 doesn't make a mess where it works. It uses a powerful hose to suck up dirt, soap and water as it cleans.
Most spot cleaners only have 8KPa of suction, but the B200 sucks at an impressive 12KPa, getting your spots dry faster and clearing more dirt and water from the area.It's truly a tremendous cycle that leaves your floors and fabrics spotless. 

There's more than one way to take on a stain. With multiple cleaning modes – plus a unique ironing mode that gets rid of wrinkles fast –, the B200 is ready to attack a whole world of stains from all kinds of fabrics.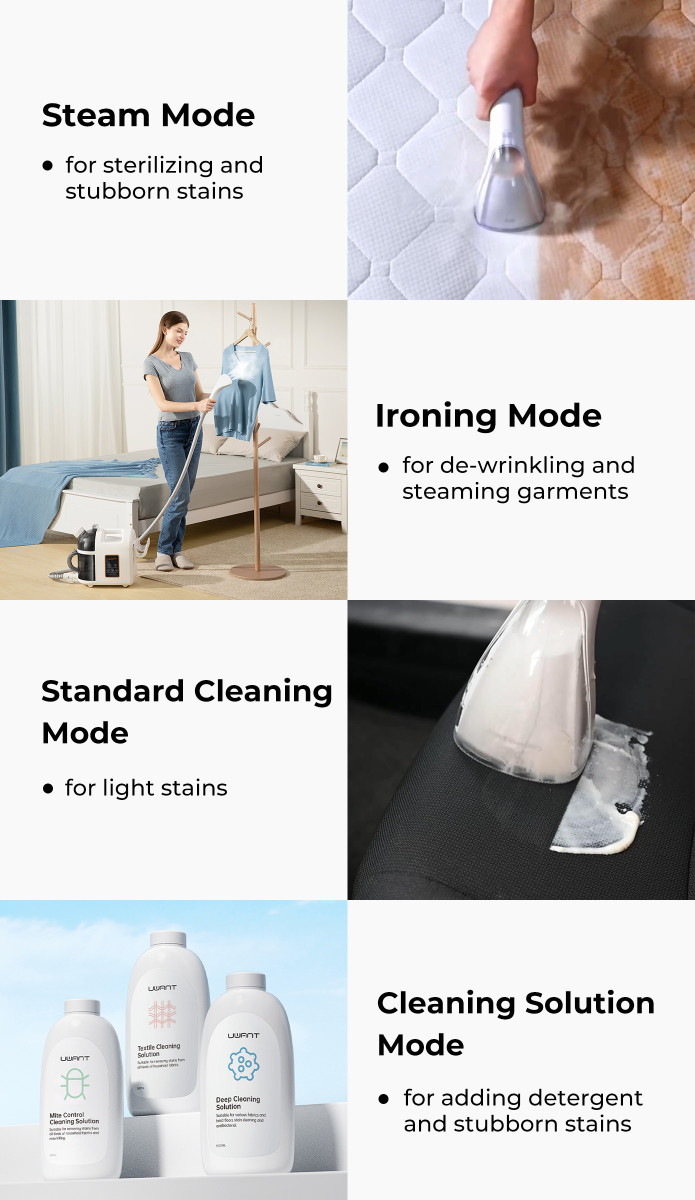 Nothing fights germs and stains like heat. B200 is the world's first spot cleaner with high-temperature steam mode, for steaming away stains like no other cleaner.High-temperature Steam Mode on the B200 reaches heats up to 212℉, giving you a secret weapon for sterilizing stains that no other spot cleaner has.
With the high temperature, It dissolves the toughest stains even below the surface — without all the elbow grease. Then, the brush and suction will magically remove the stains.

With Ironing Mode, the B200 can be used to quickly steam the wrinkles out of your clothing — all without the hot iron or a surfboard sized ironing board. Simply turn on Ironing Mode and use the attachable ironing head, and let the B200's hot steam take the wrinkles out of any outfit.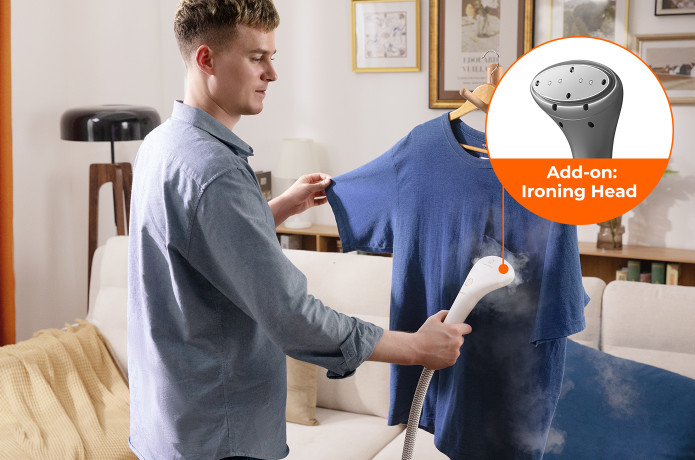 If you're dealing with a stubborn stain, you may need to add detergent to the mix. But unless you're a chemist, we wouldn't ask you to do that alone.
The B200 uses Cleaning Mode to mix the ideal solution for you. Just fill the solution tank with your favorite detergent, and it automatically mixes your soap into the hose for a perfect collusion of water and detergent that's ready to break free any stain.

Uwant B200 is a clean freak. After removing your stains, it cleans itself, using a patented self-cleaning technology. Simply press the Self-clean button, and B200 will close the valve on its cleaning hose to create a closed environment. Then it uses its powerful water pressure to wash and rinse itself  from the inside, cleaning the brush and pipe together – so it's always ready to start fresh next time there's a mess. 


Stains like to hide in hard to reach places. Luckily the B200 comes with a 157inches power cord, so you can connect to outlets anywhere and still reach stains in every part of your home. And the B200's cleaning hose is itself a full 59inches in length, giving you 216inches of cleaning range. That's enough to hit all your awkward corners, far away furniture, and marks that hide under the bed.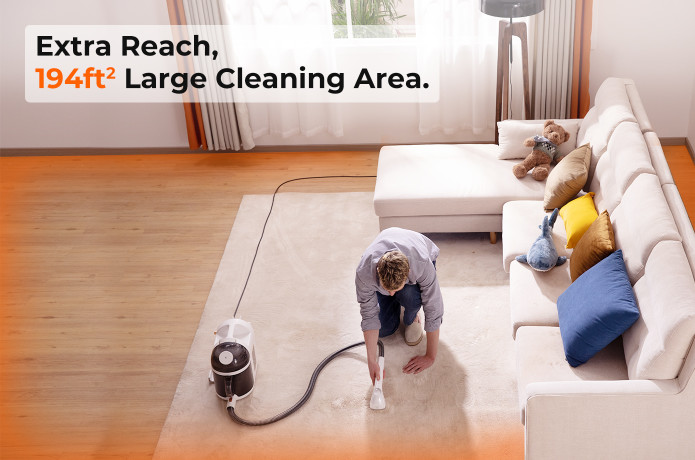 The last thing you want after removing spots is a tangle of cords. With one click, the B200 retracts its entire cord. It shortens cleaning time while helping you avoid cord tangles and tripping hazards, and protects your cord for long term use.

The B200 makes it easy to maneuver on any surface with its 3-wheel system. It features a universal wheel that's fully 360° rotatable, letting the B200 turn on a dime or easily be spun around without you lifting and turning. Then two smooth support wheels help it roll gently over carpet, hardwood, or tile. It's a back saving feature that just makes sense.

The B200 features two water tanks – a 1.5L tank for clean water, and a 1.5L tank for dirty water the B200 sucks up while cleaning. Both tanks are larger than you'll find on mos other spot cleaners, giving you a larger capacity to take on bigger messes. A clear view of both tanks lets you know when it's time to refill your clean water or empty the dirty stuff. And the separated chambers make sure that never the two shall meet.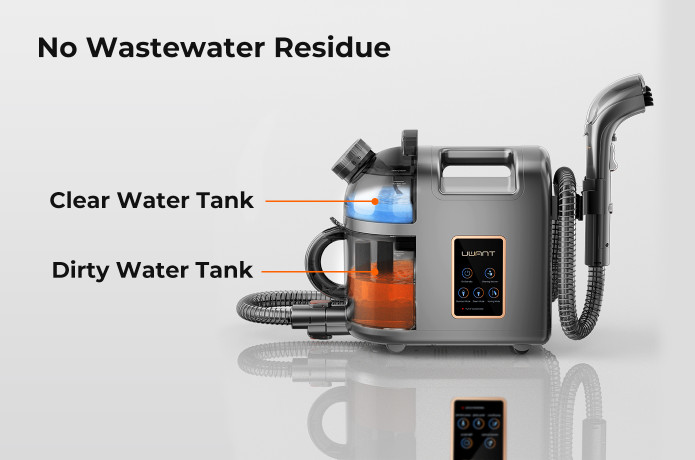 Unlike most spot cleaners, the B200 has its own 200ml detergent tank that carries soap everywhere it goes. There are 3 types of cleaning solution to choose from, for deep cleaning, textiles, or mite control. You can also use any detergent of your preference. It helps save your soap, and your time, while keeping the leftover detergent on board for the next time you need it.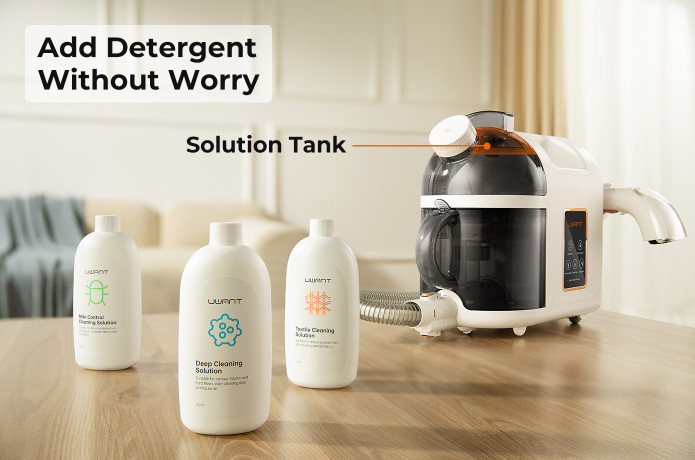 View full details
Shipping

We offer 7-10 days of Expedited shipping and 15-25 days shipping. Big item to the Middle East etc will be refunded if cannot be shipped.

Returns

We offer a 1-year warranty for all items, please contact us if there is any issue and we will be there for you.